India-Bangladesh Relations
Prime Minister Sheikh Hasina's four-day official visit to India will be underscored by serious concerns which will challenge Delhi-Dhaka ties.
Issue
Context
Prime Minister Sheikh Hasina's four-day official visit to India will be underscored by serious concerns which will challenge Delhi-Dhaka ties.
Background
India was the first country to recognize Bangladesh as a separate and independent state and established diplomatic relations with the country immediately after its independence in December 1971.

The relationship between India and Bangladesh is anchored in history, culture, language and shared values of secularism, democracy, and countless other commonalities between the two countries.

It is based on sovereignty, equality, trust, understanding and win-win partnership that goes far beyond a strategic partnership.

In the last couple of years, the relationship has been further strengthened including through cooperation in new and high-technology areas.
Bilateral institutional mechanisms
Security & Border Management:

India and Bangladesh share 4096.7 km. of border, which is the longest land boundary that India shares with any of its neighbours. The India-Bangladesh Land Boundary Agreement (LBA) came into force following the exchange of instruments of ratification. A number of agreements related to security cooperation have been signed between both the countries. The Coordinated Border Management Plan (CBMP) signed aims to synergize the efforts of both the Border Guarding Forces for checking cross border illegal activities and crimes as well as for maintenance of peace and tranquility along the India-Bangladesh border.
Sharing of River Waters:

India and Bangladesh share 54 common rivers. A bilateral Joint Rivers Commission (JRC) is working since June 1972 to maintain liaison between the two countries to maximize benefits from common river systems. The Ganga Waters Treaty signed in 1996 for sharing of waters of river Ganga during lean season is working satisfactorily. Regular meetings of the Joint Committee on Sharing of Ganga Waters are held to take stock of the implementation of the provisions of the treaty.
Bilateral Trade and Investment:

The first Trade Agreement between India and Bangladesh was signed in 1972. Bilateral trade between India and Bangladesh has grown steadily over the last decade. In the five years, total trade between the two countries has grown by more than 17%. India has provided duty free quota free access to Bangladesh on all tariff lines except tobacco and alcohol under South Asian Free Trade Area (SAFTA) since 2011. Four Border Haats, two each in Tripura and Meghalaya, have been established for the benefit of bordering communities. Additional Border Haats on the India-Bangladesh border are under consideration.
Power and Energy Sector Cooperation:

Cooperation in power sector has become one of the hallmarks of India Bangladesh relations. Bangladesh is currently importing about 660 MW of power from India. The 1320 MW coal-fired Maitree thermal power plant, a 50:50 JV between National Thermal Power Corporation (NTPC) of India and Bangladesh Power Development Board (BPDB), is being developed at Rampal. Many Indian public sector units such as Indian Oil Corporation, Numaligarh Refinery Limited, Petronet LNG Ltd are working with their Bangladeshi counterparts in the oil and gas sector of Bangladesh.
Training and Capacity-Building:

A number of training courses are being conducted for interested Bangladesh officials / nationals including personnel of administration, police, judiciary, fire-fighters, narcotic officials, nuclear scientists, teachers etc. Bangladesh is also an important ITEC partner country, and around 800 participants from Bangladesh avail of training courses under the ITEC programme annually.
Cultural Exchanges:

The Indira Gandhi Cultural Centre (IGCC), High Commission of India, is a Cultural Centre of the Indian Council for Cultural Relations of India in Bangladesh. The IGCC also holds regular training courses in Yoga, Hindi, Hindustani Classical Music, Manipuri Dance, Kathak and Painting. The courses are very popular with the Bangladeshi students. IGCC Hindi teacher also teaches Hindi at Institute of Modern Languages in University.
Indian community in Bangladesh:

About 10,000 strong Indian community is estimated to be living in Bangladesh. Indians in Bangladesh are well respected for their hard work and managerial skills and as a community are doing very well socially and economically. Most of the Indians are Page 7 of 7 engaged in Ready Made Garment (RMG) sector or as top professionals in MNCs.
Recent Developments
One of the projects jointly inaugurated by India and Bangladesh allows India to buy liquefied petroleum gas from Bangladesh for consumption in India's north-eastern state of Tripura.

The second is the inauguration of a skill development centre that will provide basic as well as advanced training some 200-300 Bangladeshi youth on an annual basis for employment in the small and medium scale industry sectors.

Terms for the use of the Chattogram and Mongla ports in Bangladesh for movement of goods to and from India.

Pact signed for India to draw 1.82 cusecs (cubic seconds) of water from Bangladesh's Feni river for use by India in Tripura state.
How Bangladesh Is Benefiting From the China-India Rivalry
Bangladesh's pivotal geographical location on the contested Indian Ocean, it is one of the world's fastest-growing economies and, with 160 million people, the eighth most populous country in the world. The size of the population, which signifies the size of the market, helps overshadow the small territorial size of this country.

Bangladesh has turned its neighbours' rivalry into billions of dollars in investment and military equipment.

China's economic engagement with South Asian countries with the exception of long-time partner Pakistan only began to ramp up in the last two decades. In this short period of time, China has emerged as a top trade partner for Bangladesh.

In 2015, China became Bangladesh's top trading partner, knocking India out of the position it had held for 40 years. Imports from China represent 34 percent of Bangladesh's total.

As a member of China's Belt and Road Initiative, Bangladesh has seen an influx of Chinese investment in recent times.

China has become Bangladesh's top source for arms imports; and Dhaka likewise is China's second-largest arms export destination in the world, behind Pakistan.

Beijing has provided Dhaka with five maritime patrol vessels, two submarines, 16 fighter jets, and 44 tanks, as well as anti-ship and surface-to-air missiles.

Beijing's support of Bangladesh was evident in the 27 agreements for investments and loans signed by the two countries worth some $24 billion

As a rapidly developing economy Bangladesh is in dire need of investment, while China and India both see investment in Bangladesh as a way to extend their influence. Bangladesh is seizing the opportunity and using both China and India to fill its FDI deficit.
Conclusion
One way of getting the most out of India-China competition is to remain elusive, without showing a preference between the two giants. Maintaining good working relations with both India and China is crucial for an economically and infrastructurally weak Bangladesh.
Learning Aid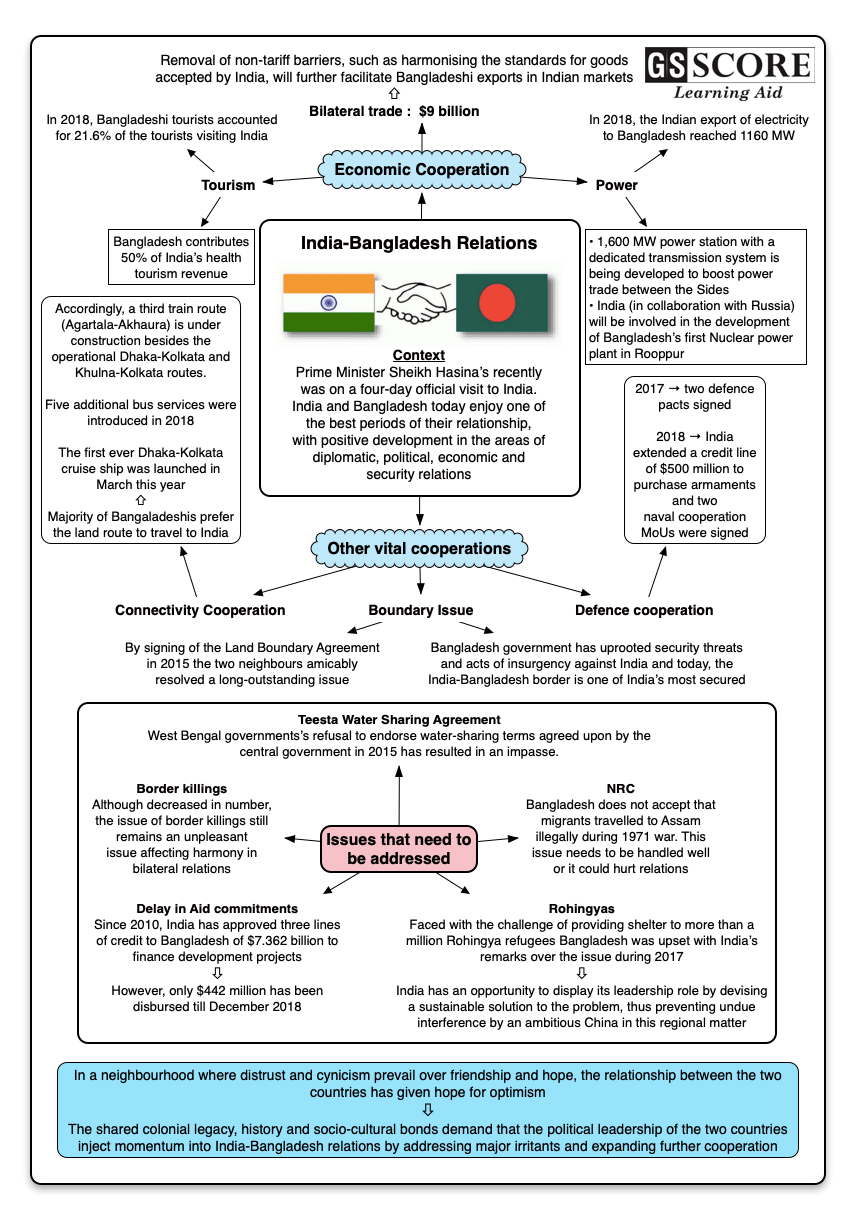 </pclass="img">