India's Arctic Ambitions
Context
As per the contents of India's Artic Policy, unveiled recently, India aspires to have a permanent presence, more research stations and establish satellite ground stations in the Arctic region.
Background
The policy documents the history of India's relationship with the region, which can be traced back to February 1920, when it signed the Svalbard treaty in Paris.
In 2007, India launched its first scientific expedition to the Arctic.
Since then, India has been able to set up an observatory in Kongsfjorden as well as an atmospheric laboratory at
Since 2013, India has been an Observer nation in the Arctic Council, where it has consistently participated in meetings of Senior Arctic Officials and contributed to its six Working Groups, the policy states.
Analysis
What is the Arctic Policy?
Title: 'India and the Arctic: building a partnership for sustainable development'.
The policy is built on six central pillars —

science and research
climate and environmental protection
economic and human development
transportation and connectivity
governance and international cooperation
national capacity building
Arctic region
The region surrounding the North Pole consists of a large ocean surrounded by land.
This ocean, called the Arctic Ocean, is like no other ocean on Earth; and because of its special location and climate, the lands that surround it are unique.
The Arctic region covers parts of eight countries: Canada, Greenland, Iceland, Norway, Sweden, Finland, Russia, and the United States.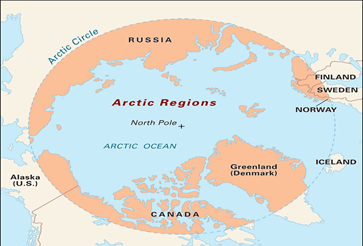 What is the status of India's presence in Arctic as of now?
India has had a research base in the Arctic since 2008 and also has two observatories in the region.
The country presently has a single station, Himadri, in Ny-Alesund, Svalbard, a Norwegian archipelago, where research personnel are usually present for 180 days.
It is in the process of procuring an ice-breaker research vessel that can navigate the region.
India, since 2007, has so far sent 13 expeditions to Arctic and runs 23 active science projects on the region.
About 25 universities and institutes in India are involved in Arctic research in India.
India has "Observer" status in Arctic Council.
Arctic Council
Arctic Councilis an intergovernmental forum that addresses issues faced by the Arctic governments and the indigenous people of the Arctic.
At present, eight countries exercise sovereignty over the lands within the Arctic Circle.
Members of Arctic Council are- Canada, Denmark, Finland, Iceland, Norway, Russia, Sweden and United States.
Headquarters of Arctic Circle is located at Tromso, Norway.
Why does India want enhance its research role in Arctic?
Weather of Arctic influences Indian monsoon.
Studying the impact of climate change on ice caps in Arctic