National Multidimensional Poverty Index: NITI Aayog
Context
The government think tank NITI Aayog has released the National Multidimensional Poverty Index (MPI).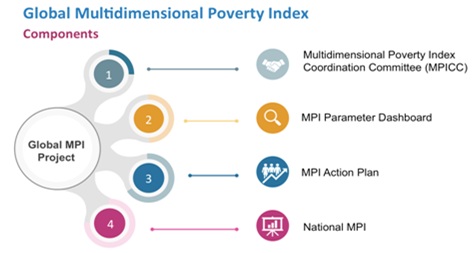 What is Global Multidimensional Poverty Index 2021?
Earlier published by: Earlier, the Global Multidimensional Poverty Index 2021 was released by the United Nations Development Program (UNDP) and the Oxford Poverty & Human Development Initiative (OPHI).
Aim: MPI aims to measure poverty in all its many aspects and actually complements existing poverty statistics based on individual spending expenditures.
Global MPI: According to the Global MPI 2021, the Indian standard is 66 out of 109 countries. National MPI aims to eliminate the global MPI and create a global-oriented MPI for India to design broad-based Transformation Programs with the ultimate goal of improving India's position at Global MPI levels.
Dimension: It has three equal dimensions - health, education and standard of living.

Categories: These three categories are represented by 12 indicators such as food, schooling, schooling years, drinking water, sanitation, housing, bank accounts among others.
Approach: The national MPI scale uses an internationally accepted and dynamic approach developed by the Oxford Poverty and Human Development Initiative (OPHI) and UNDP.
Base year: This basic report of the national MPI rating is based on the 2015-16 National Family Health Survey (NFHS-4).
Why NFHS-4: NFHS-4 data was used to identify the concept of various basic poverty to determine the situation before the full introduction of centralized government programs.
Indicators: NFHS-4 preceded the full implementation of programs (of central government) affecting housing, drinking water, sanitation, electricity, cooking oil, investment, and other major efforts to improve schooling, nutrition, maternal and child health, etc.
Suggestion: However, it should be noted here that NFHS-5 data suggests improvements in access to clean cooking fuel, sanitation, and electricity which means a reduction in demand.
Key-Findings of the Index:
Poverty Levels:
Bihar has the highest number of people in the country followed by Jharkhand and Uttar Pradesh who are poor in terms of rank.
Kerala has registered the poorest poverty rates, followed by Pondicherry, Lakshadweep, Goa and Sikkim.
Malnourished People: Bihar also has the highest number of malnourished people, followed by Jharkhand, Madhya Pradesh, Uttar Pradesh, and Chhattisgarh.
India's performance
Under the Cabinet Secretary's Global Indices for Reforms and Growth (GIRG) initiative, the country's performance is being monitored across 29 global indices including

Human Development Index (HDI)
Global Hunger Index (GHI)
Global Competitiveness Index (GCI)
Human Capital Index (HCI)
Global Innovation Index (GII), among others

This exercise is aimed at leveraging the monitoring mechanism of important social, economic, and other internationally recognised indices, enabling the utilisation of these indices as tools for bringing about reforms to improve outcomes and correspondingly reflect them in India's performance in these indices globally.
NITI Aayog is the nodal Ministry for the Multidimensional Poverty Index (MPI). According to Global MPI 2021, India's rank is 66 out of 109 countries.
Importance of the index
Contribution to Establish a Community Policy Tool: The development of the Index is an important contribution to the development of a social policy tool that monitors various poverty, informing evidence-based and focused interventions, thus ensuring that no one is left behind.
Showing All Image of Poverty: This paints a complete picture of poverty in the country, and also provides an in-depth and in-depth analysis of the areas of interest such as districts - regions or regions, as well as specific sectors and complementing financial poverty statistics available.
Assistance in Achieving the SDGs: It is a contribution to measuring progress towards the 1.2 Sustainable Development Goals (SDGs) aimed at reducing "at least half of men, women and children of all ages living in poverty in all its aspects.
However, Preliminary observations from NFHS 5 (2019-20) suggests improvement in access to clean cooking fuel, sanitation, and electricity which translates to reduction in deprivation. Additionally, the State reports released for 22 States and UTs suggest reduction in deprivation in school attendance, drinking water, bank accounts and housing. These improvements indicate an overall direction of significant reduction in the incidence of multidimensional poverty in the forthcoming index based on NFHS 5 (2019-20) household micro data.