Orion splashdown: Significance of NASA's Artemis 1 mission
Context
Orion's landing in the Pacific Ocean marked the end of the inaugural Artemis 1 lunar mission exactly 50 years after Apollo's final moon landing.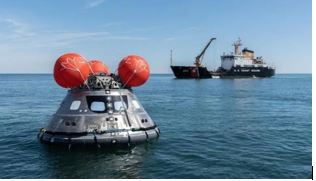 Details:
During this skip entry, Orion dipped into the upper part of Earth's atmosphere and used the atmosphere, along with the lift of the capsule, to skip back out of the atmosphere.
Significance:
In Artemis II, landing accuracy will help in making sure to retrieve the crew quickly.
It will also reduce the number of resources that will be needed to be stationed in the Pacific Ocean to assist in recovery.
About
About Artemis I Mission:
What is the Importance of Artemis I Mission?
Artemis I is the first step into that new space age of achieving the promise of transporting humans to new worlds, landing and living on other planets, or maybe meeting aliens.
The CubeSats it will carry are equipped with instruments meant for specific investigations and experiments, including searching for water in all forms and for hydrogen that can be utilized as a source of energy.

Biology experiments

will be carried out, and the impact of deep space atmosphere on humans will be investigated through the effect on dummy 'passengers' onboard Orion.
Upcoming Artemis Missions:
Artemis II:

It will take off in 2024.

Artemis II will have a crew aboard Orion and will be a test mission to confirm that all of the spacecraft's systems will operate as designed when it has humans on board.

But the Artemis II launch will be similar to that of Artemis I. A crew of four astronauts will be aboard Orion as it and ICPS orbit the Earth twice before moving to the direction of the Moon.

Artemis III:

It is scheduled for 2025, and is expected to ferry astronauts to the moon for the first time since the Apollo missions.
India's Moon Exploration Efforts:
Chandrayaan 1:

Chandrayaan-1 was India's first mission to Moon under Chandrayaan project.

It was launched successfully in October 2008 from Satish Dhawan Space Centre (SDSC) SHAR, Sriharikota, Andhra Pradesh.

Chandrayaan-2:

Chandrayaan-2 is India's second mission to the moon and comprises a fully indigenous Orbiter, Lander (Vikram), and Rover (Pragyan). The Rover Pragyan is housed inside Vikram lander.

Chandrayaan-3:

The ISRO recently announced India's third lunar mission Chandrayaan-3, which will comprise a lander and a rover.

Verifying, please be patient.