Political Inclusion of Tribals
Context
Droupadi Murmu, former Jharkhand Governor, has been nominated for President election candidature.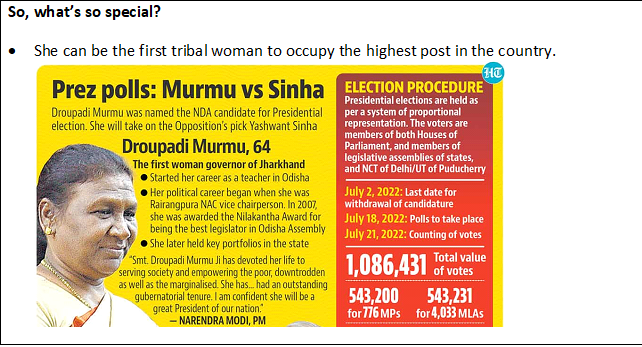 Issues faced by tribal population
The tribal communities have not received the full benefits of development processes undertaken over the past six decades.
Plus, they are adversely affected by the developmental projects undertaken during this period.
While tribes have a distinct culture and history, they also share commonalities with other marginalised sections of Indian society, such as the

lack of adequate political representation
economic deprivation
cultural discrimination
Xaxa Committee on Tribal Communities of India
Accordingly, the Prime Minister's Office constituted a High-Level Committee (HLC) in 2013, under chairmanship of Prof. Virginius Xaxa.
The Committee was mandated to examine the socio-economic, educational and health status of tribal communities and recommend appropriate interventional measures to improve the same. It submitted report in May, 2014.
The five critical issues:

Livelihood and employment,
Education,
Health,
Involuntary displacement and migration, and
Legal and constitutional matters have been studied by Xaxa Committee.

In one of the discourses, the overall condition of tribal people, including their poverty, is attributed to their social and geographical isolation.
Verrier Elwin attributed their deplorable and impoverished condition to their contact with the outside world, which had led to indebtedness and loss of control over their land and forests. (Verrier Elwin (1902 – 1964) was a British self-trained anthropologist, ethnologist and tribal activist.)
Integration and Development: The nationalist leadership recognized both of these dimensions (social and geographical isolation) and addressed them. The provisions enshrined for Scheduled Tribes in the Indian Constitution are a testimony to this dual approach.
How tribal leadership can help India?
Leaders of the tribal middle class. They are connected to the global indigenous people's network. They are a little more vocal about issues of land, water and forest, but are hardly involved in any sustained movement.
The grassroots leaders: They know the issues better than anybody.
In Lok Sabha, 47 seats are reserved for the Scheduled Tribes.
Government's shifted focus towards tribals
Pradhan Mantri Adi Adarsh Gram Yojana
Eklavya Model Residential Schools for Scheduled Tribe students
Scheme of Development of Primitive Tribal Groups
Post Matric Scholarship (PMS) for ST students
up gradation of Merit of ST students
Vocational Training Centres in tribal areas
establishment of ashram schools in tribal sub-plan areas
schemes on marketing of tribal produce
investment in TRIFED
development of Primitive Tribal Groups (PTGs) etc.
The President
The Indian President is the head of the state.
He is the first citizen of India and is a symbol of solidarity, unity, and integrity of the nation.
He is a part of Union Executive along with the Vice-President, Prime Minister, Council of Ministers, and Attorney-General of India.
Provisions which deal with the Executive powers of the president are Article 52-78 including articles related to President (Article 52-62).
What are the qualifications of the President?



A candidate has to meet some qualifications to be elected as the president. Those qualifications of the President are
He should be an Indian Citizen
His age should be a minimum of 35 years
He should qualify the conditions to be elected as a member of the Lok Sabha
He should not hold any office of profit under the central government, state government, or any public authority
How is president elected?
There is no direct election for the Indian President.
An electoral college elects him. The electoral college responsible for President's elections comprises elected members of:

Lok Sabha and Rajya Sabha
Legislative Assemblies of the states (Legislative Councils have no role)
Legislative Assemblies of the Union Territories of Delhi and Puducherry

Term: Once President is elected, he holds office for five years. He sits in the office even after the completion of five years given no new election has taken place or no new President has been elected till then. He can also be re-elected and there is no cap on his re-election.

Verifying, please be patient.
Our Centers
DELHI (Karol Bagh)
GS SCORE, 1B, Second Floor, Pusa Road, Karol Bagh, New Delhi - 110005 (Beside Karol Bagh Metro Station Gate No. 8)
BHUBANESWAR (Jaydev Vihar)
GS SCORE, Plot No.2298, Jaydev Vihar Square, Near HCG Day Care, BBSR - 751013
LUCKNOW (Aliganj)
GS SCORE, 2nd Floor, B-33, Sangam Chauraha, Sector H, Aliganj, Lucknow, UP - 226024