1 Crore Olive Ridley Turtles Hatch On Odisha Coast
Context
At least 1 crore baby Olive Ridley turtles hatched on Odisha coast in last few days. It is expected that around 2 crore more baby turtles will hatch on Odisha coast before the culmination of this year's breeding season.
About Olive Ridley Turtles:
They are the smallest and most abundant of all sea turtles found in the world.
Major nesting sites in India: Rushikulya rookery coast (Odisha), Gahirmatha beach (Bhitarkanika National park) and mouth of the Debi River.
Scientific name:Lepidochelys olivacea; also known as the Pacific ridley sea turtle.
Presence: Found in warm watersof the Pacific, Atlantic and Indian oceans.
Conservation Status:

IUCN Red List: Vulnerable
Schedule I of Indian Wildlife (Protection) Act, 1972
CITES Appendix I

Features:

Known for their unique mass nesting called Arribada, where thousands of females come together on the same beach to lay eggs.
These are carnivores and feed mainly on jellyfish, shrimp
The eggs hatch in 45 to 60 days, depending on the temperature of the sand and atmosphere during the incubation period.
Breeding Season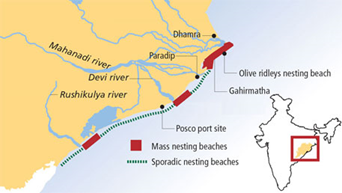 Lakhs of Olive Ridley sea turtles usually congregate in the coastal sea of Odisha for breeding purposes every year.
It is believed that around 50 per cent of the Olive Ridley turtles in the world visit Odisha coast to lay eggs.
The breeding season of Olive Ridley turtles begins in November every year and concludes in May.
The turtles usually lay eggs on Odisha coast in between November and second week of March. The baby turtles hatch in the months of April and May.