Aldabra, one of the world's largest atolls, is a UNESCO (United Nations Educational, Scientific and Cultural Organization) World Heritage Site in Seychelles.
It is located in the Indian Ocean.
It comprises four main islands of coral limestone separated by narrow sea passages and encloses a large shallow lagoon.
It is home to a population of endemic giant Aldabra tortoises, which fluctuate to around 100,000 more than the 95,000 population of Seychelles.
Coral Reef and Climate Change
What is Bleaching?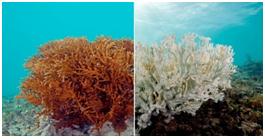 Bleaching is a process where corals lose their vivid colour and turn white.
Coral exists in a mutually beneficial relationship with zooxanthellae algae, which live inside the coral's polyps.
The algae use the coral's waste products and provide the nutrients to feed them both through photosynthesis.
Higher sea temperatures force the coral to expel the colourful algae and, if this process is prolonged, the coral starves.
During a coral bleaching event, reefs lose so much zooxanthellae that they become white and experience massive die-offs.
Ocean acidification exacerbates the problem, eroding the reef, forcing corals to expend more energy building their calcium carbonate skeletons and slowing down their growth rate.
If bleaching continues for an extended period of time, corals eventually die.
Coral bleaching and mortality exacerbated by climate change are one of the biggest threats to oceanic biodiversity.
Significance of the findings