Army accelerates procurement of light tank 'Zorawar' for LAC
Context
With the "increased threat" from China along India's northern borders "likely to remain in the foreseeable future", the Army is launching Project Zorawar — the induction of indigenous light tanks for quicker deployment and movement in high altitude areas.
About
Project Zorawar:
The Indigenous Indian Light Tank aptly named 'Zorawar' is designed to operate in varying terrain from High Altitude Areas, the marginal terrain to the Island territories will be highly transportable for rapid deployment to meet any operational situation.
The Army is looking at a light tank with a maximum weight of 25 tons— with a margin of 10 per cent — with the same firepower as its regular tanks.
The tank should be armed with Artificial Intelligence (AI), integration of tactical surveillance drones to provide a high degree of situational awareness and loitering munition, along with an active protection system.
The name game:
The project has been named 'Zorawar' after Zorawar Singh Kahluria, a military general who served under Jammu's Raja Gulab Singh, known as the 'conquerer of Ladakh'.
Swarm Drone Systems
In another development Indian Army has also given go-ahead for the induction of indigenous "swarm drone systems":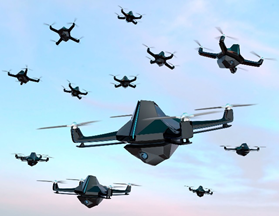 Indian Army has inducted indigenously produced Swarm Drones Systems aiming to employ them in both offensive and defensive operations.
A swarm drone system consists of a number of small drones which are AI-enabled and capable of communicating with the control station as well as among them and provide asymmetric capabilities for taking out frontline assets of the adversary.
Swarm drones consist of a number of drones controlled from the same station which can be programmed using an algorithm to carry out various tasks, including surveillance.