Arunachal Pradesh Frontier Highway along LAC
Context
Centre approved 1500-Km Arunachal Pradesh Frontier Highway along the Line of Actual Control (LAC).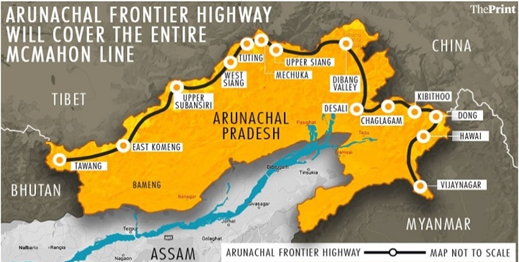 About
To be developed by: Union Ministry of Road Transport and Highways (MoRTH)
Arunachal Pradesh borders three of India's neighbours — Bhutan, China and Myanmar, stretching up to 1,630 km.
The road will run close to the Line of Actual Control (LAC) with China.
It is seen as one of India's biggest and toughest road construction projects.
The proposed route will start at Mago, which borders Bhutan, and continue through Tawang, Upper Subansiri, Tuting, Mechuka, Upper Siang, Debang Valley, Desali, Chaglagam, Kibithu, and Dong before coming to an end at Vijayanagar, which is close to the Myanmar border.
Significance
Boost to military: The construction of the Arunachal Frontier Highway will give the military a significant boost in capacity.
Better connectivity: With this project, Arunachal Pradesh will have three national highways —

Frontier Highway
East-West Industrial Corridor Highway
Trans-Arunachal Highway