ASI to remove sand from interior of Konark Sun Temple
Context
Archaeological Survey of India is working on a preliminary roadmap to safely remove sand from the interiors of Odisha's Sun Temple's sealed assembly hall (Jagamohan).
ASI, the custodian of the world heritage site, will be assisted by IIT Madras in the process.
About
Facts about Konark Temple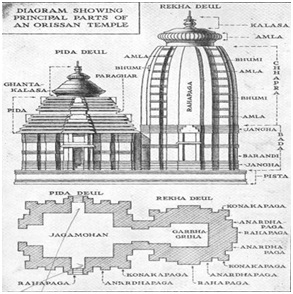 The name Konark is made of two Sanskrit words: Kona, meaning corner, and arka, meaning sun.
Built by King Narasimhadeva I of the Eastern Ganga dynasty from 1238-1250 CE, the 13th century late-style Kalingan temple forms part of the golden triangle of Odisha, along with Puri and Bhubaneswar.
Konark was chosen as its place of construction because it has been described as the holy seat of Surya in various ancient texts.
Its architecture has all the defining elements of the Kalinga architecture – it includes

Shikhara (crown)
Jagmohana (audience hall)
Natmandir (dance hall)
Vimana (tower)
Ka?inga architectural style
The Ka?inga architectural style is a style of Hindu architecture which flourished in the ancient Kalinga previously known as Utkal and in present eastern Indian state of Odisha.
The style consists of three distinct types of temples:

Rekha Deula
Pidha Deula
Khakhara Deula

The former two are associated with Vishnu, Surya and Shiva temples while the third is mainly with Chamunda and Durga temples.
The Rekha Deula and Khakhara Deula houses are the sanctum sanctorum while the Pidha Deula constitutes outer dancing and offering halls.
The need
The sand was filled up by the British 118 years ago to prevent it from collapsing.
The need to remove the sand was felt after a study warned of possible damage caused by the sand settling down — resulting in a gap of 17 feet between the sand layer and the structure.
This report was submitted in 2019 and suggested two solution:

To refill the 17-foot gap with fresh sand.
To remove all the sand and properly restoring the structure
Important festivals in the State

Jagannath Temple in Puri

Jagannath Temple in Puri is one of the Char Dham pilgrimage spots for Hindu devotees of India.

Lord Jagannath temple is located in Puri that is a coastal town of Odisha

Ram Mandir, Bhubaneswar

Ram Mandir is a temple complex in the heart of Bhubaneswar city in Odisha.

Lingaraj Temple, Bhubaneswar

Lingaraj Temple is one of the oldest temples in the state of Odisha.

It is a Hindu temple that is dedicated to Lord Harihara or an incarnation of Lord Shiva.

Mukteshwar Temple, Bhubaneswar

Mukteshwar temple is a Hindu temple that was built in the 10th century

Maa Tarini Temple, Ghatagaon, Keonjhar

Maa Tarini temple in Ghatagaon, Keonjhar, Odisha is one of the Shakti and Tantra Peethas or shrines in the state.