Chandigarh topped in Indian Swachhta League
Context
Chandigarh was adjudged winner along with Navi Mumbai in the 10 lakhs plus population category of the Indian Swachhta League (ISL).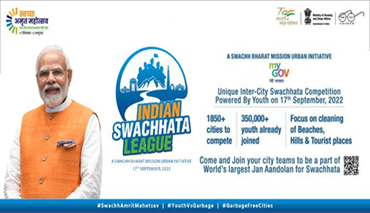 About
About the 'Indian Swachhta League':
The Union Ministry of Housing and Urban Affairs initiated the Swachh Amrit Mahotsav, which started with the Indian Swachhata League.
The Indian Swachhata League is India's first inter-city competition led by youth toward building Garbage Free Cities.
Citizens across India were invited to search for their cities on MyGov and register to join their city teams in the Swachhata activities that have been planned.
More than 1,850 teams have participated in the league.
SBM-Urban 2.0 is a maiden edition of the 'Indian Swachhata League' which has mobilized more than 5,00,000 youth, citizen volunteers, and celebrity icons across the country to join the first ever Indian Swachhata League and to work together towards the mission's goal of making cities clean, green, and garbage-free.
The competition:
Once the event is completed, every city team will submit an official entry regarding their activities, along with photos and videos.
City teams will be evaluated based on the following criteria:
Scale of participation
Innovativeness of the activities
Impact of the activities
Significance:
The contests underlined the magnitude of the effort made by the Municipal Corporation and its sanitation workers in ensuring cleanliness, taking the help of youth to increase public awareness on avoiding dumping of garbage, and sending the message of clean water sources.
Related Initiatives
Swachh Bharat Abhiyan: It was announced by Prime Minister of India Narendra Modi on Indian Independence Day & launched on 2 Oct 2014, Gandhi Jayanti.
Waste to Wealth Model: The government has adopted new rules that provide for ways and means to minimize plastic waste generation, adoption of extended producer responsibility for collection of waste and sustainable plastic waste management, recycling and utilization of plastic waste in road construction, energy, and oil generation.