Electronically Transmitted Postal Ballot System (ETPBS)
ETPBS recorded 60.14% turnout in 2019.
Context
ETPBS recorded 60.14% turnout in 2019.
About
More on news
In 2019 elections, a record highest number of 18,02,646 were enrolled as Service Electors as compared to 13,27,627 number of registered Service Electors in 2014.

In the seven phases of elections, a total of 18,02,646 postal ballots were dispatched electronically using the flagship IT programme – ETPBS of Election Commission of India.

In return 10,84,266 e-postal ballots were received indicating 60.14% turnout.
About ETPBS
ETPBS is a flagship programme of Election Commission of India (ECI) developed with the help of Centre for Development of Advanced Computing (C-DAC).

By this, the service voters were sent postal ballots electronically in a one way to save processing time, resources and avoid human errors.
How ETPBS works?
Under this system a blank postal ballot paper is transmitted to service voters electronically. Then they can download the postal ballot and print the blank postal ballot.

After marking his vote in the blank postal ballot, the same would be returned to the concerned Returning Officer by post as in the present system of postal ballot.

It is a fully secured system, having two security layers. Secrecy of voting is maintained through the use of OTP and PIN and no duplication of casted ETPB is possible due to the unique QR Code in the portal.

It was first used in a by-election in the Nellithope Assembly constituency in Puducherry in 2016 and on pilot basis in the State during the Chengannur bypoll.

The pilot and trials were carried out in U.P., Punjab, Uttarakhand, Goa and Manipur Assembly elections.
Class of Electors who are eligible for ETPBS
Service Voters, other than those who opt for proxy voting (Classified Service Voters)

The wife of a Service Voter who ordinarily resides with him

Overseas Voters
Features
Service voters can avail this service from anywhere outside their constituency.

System facilitates creation of service voter electoral roll data.

Easy, Efficient and Hassle free

It is a secure system, having two layer security

OTP is required to download encrypted Electronically Transmitted Postal Ballot file.

PIN is required to decrypt, print and deliver ETPB.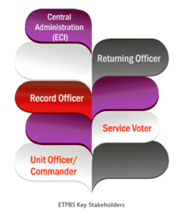 Significance of ETPBS
Right to Vote

: With the motto of "no voter to be left behind", it has empowered and ensured all eligible service electors with their constitutional power to vote while performing their duty for the nation.

The armed forces personnel serving in remote and border areas would be greatly benefitted since the present system of two-way transmission of ballot paper by the postal services has not been able to meet the expectations of the service voters.

No delay

: This would cut short the delay experienced in the present system in two-way transmission of ballot paper by the postal services.
Who are service voters?
In cases of close contests, service voters play crucial and decisive role.

Service voter are those who have service qualification. They include member of Armed Forces of the Union of India, members of Armed Police forces of the States serving outside that state and persons employed under Government of India on posts outside India.

As per existing arrangements, members of India Army, Navy and Air force, Boarder Road Organisation, BSF, ITBP, Assam Rifles, NSG, CRPF, CISF and SSB are eligible to be registered as service voters.

A Service Voter can cast his/her vote by proxy also. They may appoint (By applying to returning officer in Form 13 F available at the website of ECI) any person as his/her proxy to cast vote on his/her behalf in his/her at the polling station.

Proxy should be a registered voter of that constituency.