First urea, now DAP: High use of subsidised fertilisers raises crop yield fears
Context
According to data from the Ministry of Chemicals and Fertilisers, the sale of urea and di-ammonium phosphate (DAP) increased by 3.7% and 16.9%, respectively, from April-October 2022 over the previous year.
Background:
Two ambitious schemes of the Government of India – Soil Health Card and mandatory neem-coating of urea, were supposed to promote the balanced use of fertilisers.
However, the annual consumption of urea (30 to 35 MT in the last 5 years) and DAP have grown over the years.
This means, instead of providing a balanced mixof plant nutrients based on soil testing and crop requirements, Indian farmers are applying only urea and DAP – both containing 46% N and P, respectively.
About
About Di-ammonium Phosphate (DAP):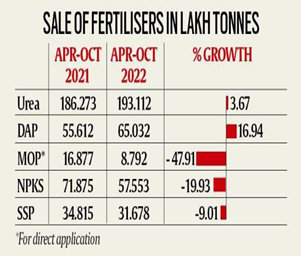 It is a very popular fertilizerbecause of its excellent physical properties and nutrient content.
It is free flowing, dust-free and does not normally give any storage problem.
DAP is almost water-solubleand ultimately leaves acid effect on soils because of ammonia (NH4) it contains.
DAP on incorporation into soil, reacts with water and gets converted into HPO4 and NH4.

Ammonium (NH4) follows the same routes as in case of urea.
Phosphorus in DAP is present in best available from (HPO4).

Depending upon the soil reaction (pH), phosphorus exists in 3 forms which can be absorbed by plant roots.
These are HPO4, H2PO4 and PO4. Phosphorus, which is immobile in soil, is not subjected to leaching losses.
Reasons behind increased consumption of urea and DAP:
High subsidy on urea:The government has fixed the maximum retail price (MRP) of urea at Rs.5,628 per tonne, while the MRPs of other fertilisers are technically decontrolled.
DAP – a cheaper substitute: Companies have been told not to charge more than Rs.27,000/tonne for DAP (Rs.29,000-31,000/ tonne for NPKS complexes), which has 46% P and 18% N.
Thus, the choice of fertilisers is primarily a function of pricesand not of NPKS complexes or other macro and micronutrients in the fertilisers.
Issues:
Over-use of fertilisers: India's fertiliser sector has been riddled with distortions from excessive use of urea. The di-ammonium phosphate or DAP is seeing a similar phenomenon of over-application due to underpricing.
The effects of overconsumption of urea and DAP:
The current NPK ratio of 13:5:1,as against the ideal 4:2:1, would adversely affect crop yields
It will adversely affect the health of plants and humans, due to the unavailability of a balanced nutrient mix.