Guru Tegh Bahadur's 400th birth anniversary
Context
Prime Minister Narendra Modi on April 21, 2022, released a commemorative coin and postage stamp to mark the 400th birth anniversary of Guru Tegh Bahadur and recalled the sacrifice of the ninth Sikh guru in protecting culture.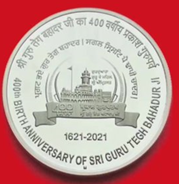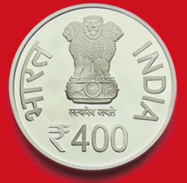 About
About Guru Tegh Bahadur (1621–1675)
Guru Tegh Bahadur was the ninth of ten Gurus of the Sikh religion.
He was born at Amritsar in 1621 and was the youngest son of Guru Hargobind.
His term as Guru ran from 1665 to 1675.
One hundred and fifteen of his hymns are in Guru Granth Sahib.
There are several accounts explaining the motive behind the assassination of Guru Tegh Bahadur on Aurangzeb's orders.
He stood up for the rights of Kashmiri Pandits who approached him against religious persecution by Aurangzeb.
He was publicly killed in 1675 on the orders of Mughal emperor Aurangzeb in Delhi for himself refusing Mughal rulers and defying them.
Gurudwara Sis Ganj Sahib and Gurdwara Rakab Ganj Sahib in Delhi mark the places of execution and cremation of his body.
His martyrdom is remembered as Shaheedi Divas of Guru Tegh Bahadur every year on 24 November.
It is based on the Nanakshahi calendar which was released by the Shiromani Gurdwara Parbandhak Committee in 2003.
About the Sikh Gurus:
Guru Nanak: He was the first guru of Sikhs and gave the first teaching and true meaning to Sikhism. He is known as the founder of the religion.
Guru Angad: He was the second guru and popularized the Gurumukhi script.
Guru Amar Das: He established the Manji and Piri System of religious missions. He also asked Akbar to ban the toll levied from non-muslim travelers.
Guru Ram Das: He composed the four Lawans of the Anand Karaj which is a distinct marriage code for Sikh. He laid the foundation of Amritsar City.
Guru Anjan: He was the 5th Guru and compiled the Guru Grant Sahib, the holy text of Sikhism. He was executed by Jahangir, the Mughal emperor.
Guru Har Gobind: He started the practice of the Sikh army – saint warriors.
Guru Har Rai: The 7th guru fought against the atrocities of Muslim rulers.
Guru Har Krishan: He was the youngest and for the smallest duration. He died due to smallpox.
Guru Tegh Bahadur: He was the second last guru and was executed by Aurengzeb.
Guru Gobind Singh: He was the last guru and was assaulted by Wazir Khan, a Mughal emperor.