Haryana plans dam at Hathnikund to curb Yamuna fury
Context
To prevent a repeat of the July floods caused by the Yamuna in Delhi and in adjoining areas of the river in Haryana, the Haryana government is planning to build a dam at a cost of Rs 6,134 crore.
About
What is the plan?
The dam will have a 14-km-long reservoir and will be built 4.5 km upstream from the Hathnikund Barrage in Yamunanagar district.
Nine villages will be displaced for its construction, besides shifting an 11-km stretch of NH-73.
It will also submerge a large chunk of forest land, including areas in Kalesar National Park and Wildlife Sanctuary.
The dam area also shares borders with Uttarakhand and Uttar Pradesh. Its reservoir will have a capacity of 10.82 lakh cusecs.
About Hathnikund barrage
Built on the Yamuna river, the Hathnikund barrage is located on the border of Haryana's Yamuna Nagar and Saharanpur in Uttar Pradesh (UP).
Yamuna water is allocated to Himachal Pradesh, Haryana, Delhi, Uttar Pradesh, and Rajasthan as per an MoU dated May 12, 1994.
Water from the Hathnikund barrage is released in three directions:

Eastern Yamuna Canal: diverted towards UP for irrigation purposes.
Western Yamuna Canal: diverts water to different parts of Haryana for irrigation purposes.
Yamuna river:After sending water to both the canals, there is a part that is left in the main river.

The WYC takes Yamuna water to Haryana for irrigation and to Delhi for drinking. Its capacity is 20,000 cubic feet per second (CFS).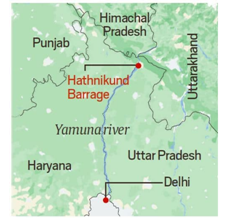 Why can't the Haryana government store water at the HKB?
Haryana have a barrage at Hathnikund and not a dam.

A barrage is a man-made structure built on water courses or rivers to facilitate and control diversion of water into canals for navigation or irrigation.
A dam collects water, especially to make a reservoir.

The HKB's main function is to divert Yamuna's water to the canals.
Benefits
Economic Significance: Once the project is completed, the state will get a financial advantage of Rs 497 crore through availability of additional irrigation water, groundwater recharge and aquaculture, apart from generation of 250 MW electricity.
Improving intensity of irrigation water: The water stored in the reservoir will improve intensity of irrigation water in the existing canals of Western Jamuna Canal (WJC).
Flood-proofing: After the execution of the project, flood water will be stored in the reservoir. It will not only save Delhi and Yamuna's adjoining areas in Haryana from floods.