India's deep-sea submersible Matsya 6000
Context
The government recently shared images of India's Matsya 6000 submersible on social media.
About
What is Matsya 6000?
The Matsya 6000 is a three-person submersible that will be able to go 6,000 metres under the sea.
Meaning 'fish' in Hindi, the vessel is being developed by Chennai's National Institute of Ocean Technology (NIOT).
Made of 80mm-thick titanium alloy, it will be able to withstand a pressure 600 times greater than that at sea level.

All research missions globally rely on titanium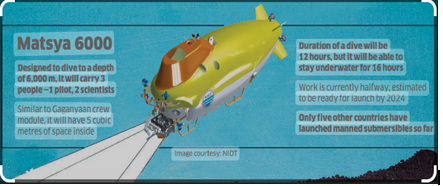 The Matsya 6000 will be able to operate from 12 to 16 hours straight and will have an oxygen supply of 96 hours.
It will feature the ultra short baseline acoustic positioning system (USBL).

This will allow the mothership carrying the transponder to send information and the submersible to respond.
This will let the mothership know where the submersible is.

It will likely undergo trials in 2024 in the Bay of Bengal.
It is part of India's Samudrayaan project to explore the deep sea. The Samudrayaan project is part of India's Rs 4,077-crore Deep Ocean Mission.
Only five nations – France, the US, China, Russia and Japan – have thus far created man submersibles.