Karnataka government to develop Nandi Hills as an international tourist destination
Context
Nandi hills, a popular hill station in the Chikkaballapur district of will be developed as an international tourist destination.
About Nandi Hills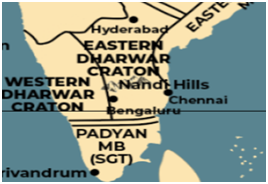 Nandi Hillsis an ancient hill fortress built by Ganga Dynasty.
Cholas were established Yoga Nandeeshwara Temple in Nandhi hills during the 11th Century.
Yoga Nandeeshwara Templeis a Hindu temple in Nandi Hills, Karnataka.
It is dedicated to Lord Shiva.
It reflects Dravida and Chola Architecture.
Raja RajendraChola and KulotungaChola's names are scripted on the walls.
The first-ever SAARCsummit hosted by India was held at Nandi Hills in
Significance
Nandi hills follow all the criteria to be developed as an International Tourist Destination.
This can enhance its chances to be ranked higher in the World Tourism ranking.
World Tourism rankings
The World Tourism rankings are compiled by the United Nations World Tourism Organization.
In the publication, UN regions and sub-regions are ranked.
They are ranked by the number of international visitor arrivals, by the revenue generated by inbound tourism, and by the expenditures of outbound travellers.
In 2019 rank, France was chosen as the most visiting nation.
Important Schemes to promote tourism
PRASHAD scheme: The 'National Mission on Pilgrimage Rejuvenation and Spiritual, Heritage Augmentation Drive' (PRASHAD)are launched by the Ministry of Tourism in the year 2014-15.

It was initiated with the objective of integrated development of identified pilgrimage and heritage destinations.

Swadesh Darshan Scheme: Ministry of Tourism (MoT) launched the SwadeshDarshan Scheme (Central Sector Scheme)– for the integrated development of theme-based tourist circuits in the country in 2014-15.

15 thematic circuits have been identified under the SwadeshDarshan for development namely:

Buddha Circuit, Coastal Circuit, Desert Circuit, Eco Circuit, Heritage Circuit, North-east Circuit, Himalayan Circuit, Sufi Circuit, Krishna Circuit, Ramayana Circuit, Rural Circuit, Spiritual Circuit, Tirthankar Circuit, Wildlife Circuit, Tribal Circuit
What is a Tourist Circuit?
Tourist Circuit is defined as a route on which at least three major tourist destinations are not in the same town, village, or city and not separated by a long-distance as well.
Tourist circuits should have well-defined entry and exit points.
Theme-based Tourist Circuits are circuits around specific themes such as religion, culture, ethnicity, niche, etc.
A theme-based circuit can be confined to a state or can also be a regional circuit covering more than one state or Union territory.