'Lessons from the Bangladesh and Vietnam's Growth Story'
Context
Vietnam and Bangladesh are on a roll. While Bangladesh has become the second largest apparel exporter after China, Vietnam's exports have grown by about 240% in the past eight years.
A Booming economy of Bangladesh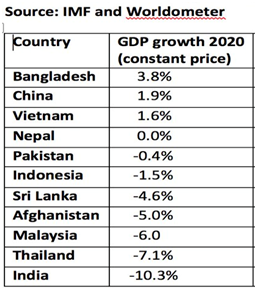 Just a little more than 20 years ago in 1997, Bangladesh's GDP was $146.8 billion and GDP per capita was $1,175, with a 5.3% GDP growth. But it isn't all just economic growth.
Aided by a fast-growing manufacturing sector—its garment industry is second only to China's—Bangladesh's economy has averaged above 6% annual growth for nearly a decade; reaching 7.86% in June 2018.
Bangladesh's economic performance has even exceeded government targets on many fronts.
Four years younger to Bangladesh, what made Vietnam grow so fast?
An open trade policy, a less inexpensive workforce, and generous incentives to foreign firms contributed to Vietnam's success.
Vietnam pursues an open trade policy mainly through Free Trade Agreements (FTAs) which ensure that its important trading partners like the U.S., the EU, China, Japan, South Korea and India do not charge import duties on products made in Vietnam.
Vietnam's domestic market is open to the partners' products. For example, 99% of EU products will soon enter Vietnam duty-free.
Production of high-end apparels is traditionally embedded in the economy and culture of Vietnam.
Bangladesh depends on five items such as men's and women's t-shirt, trouser, shirt, jacket and sweater for export while Vietnam has diversified its product line.
Only in a single market - the US - Vietnam exports 10 types of products – women's knit shirts and blouses (MMF), women's trousers (cotton), women's knit shirts and blouses (cotton), women's trousers (MMF), men's knit shirts (cotton), dresses (MMF), men's trousers (MMF), men's knit shirts (MMF), men's trousers (cotton), and women's coats (MMF).
The apparel sector played a significant role in making Vietnam a rising star by generating employment, earning foreign currencies and thus contributing to the economy.
Introduction of Doi Moi policy and export trend
In 1986, Vietnam launched a policy named Doi Moi (economic rejuvenation) to reform its economy through entering the free market trade.
The policy spurred rapid economic growth in the country.
The country has free trade agreements with the European Union, the Association of Southeast Asian Nations, Hong Kong, Singapore, South Korea and China.
The major markets for Vietnamese apparels are the United States, Europe, Japan and South Korea.
The US has been the biggest export market for Vietnamese apparels and the country benefitted the most from the US-China trade war.
The squeezing market in China has opened a space for Vietnam.
What India needs to do?
Focus on skilled production: The recent economic performance of Bangladesh should be a wake-up call for India to focus on low-skill production.
Mass employment: The need of the hour is to enable the creation of industries that provide mass employment.
Sectoral industrial zones: India, unlike Vietnam, has a developed domestic and capital market. To further promote manufacturing and investment, India could set up sectoral industrial zones with pre-approved factory spaces.
Support to large firms: The key learning from Bangladesh is the need to support large firms for a quick turnover. Large firms are better positioned to invest in brand building, meeting quality requirements, and marketing.
Which areas need attention?
Agriculture: Its performance has been worst in these six years than the previous six years. The country needs to have policies that increase agricultural production and productivity.
Banking: Second is banking reform. The country needs to implement banking reforms that will encourage the banks to get back to the job of extending credit Private investment has to be the driver of economic growth.
Private investment: Private investment has to be the driver of economic growth.