Nord Stream Pipeline
Context
Amid tensions between Russia and Ukraine, pressure is mounting on Germany to stop the Nord Stream 2 gas pipeline project.
About
The original project
The original Nord Stream pipeline, with an annual capacity of 55 billion cubic metres (bcm), was finished in late 2012.
The pipeline system's total capacity is set to double to 110 bcm following Nord Stream 2's completion.
Current status of project-: The pipeline falls in German and Danish Territory, and all but 150 km pipes for the project have already been laid.
Facts about Russia Energy Reserve-:
Russia has the largest known natural gas reserves of any state on earth.
This is the 32% of world proven natural gas reserves mainly owned and operated by Russian monopoly Gazprom, which produces 94% of Russia's natural gas Production.
What is Nord Stream 2 Pipeline Project?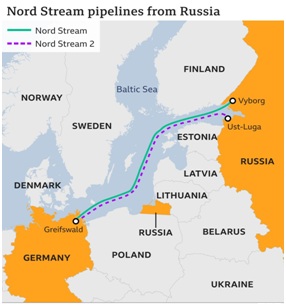 Nord Stream 2 is an underwater twin pipeline that would transport natural gas from Russia directly to Germany.
At a length of 1,230 kilometres, it is to follow the route of the existing Nord Stream twin pipeline underneath the Baltic Sea.
It will carry 55 billion cubic meter of gas per year.
The pipeline crosses into the exclusive economic zones of five countries: Russia, Germany, Denmark, Finland, and Sweden.
It would transport natural gas from Russia directly to Germany.
Nord Stream 2 is being built by Nord Stream 2 AG, a consortium incorporated in Switzerland.
Moscow-based, state-owned Gazprom is the project's sole shareholder.
Natural gas is a lower-carbon fuel that can replace other fossil fuels in the energy mix and deliver a reliable output to complement intermittent renewable energy.
Largest natural gas fields in Russia
Urengoy field – 10.9Tcm: Located in the northern West Siberia Basin, the Urengoyskoye gas and condensate field has been in production since 1978.
Yamburg field – 8.2Tcm: Yamburg, which is operated by Gazprom and located in Yamalo-Nenets Autonomous Okrug in Tyumen Oblast, is also the world's third biggest natural gas field.
Bovanenkovo field – 4.9Tcm: Located in the Yamalo-Nenets Autonomous Okrug, the onshore Bovanenkovo field operated by Gazprom has been in production since 2012.
Shtokmn field – 3.9Tcm: Discovered in 1988, the Shtokman gas and condensate field is located in the central part of the Russian sector of the Barents Sea, approximately 600km north-east of Murmansk and in water depths of ranging from 320m to 340m.
Zapolyarnoye field – 3.5Tcm: The Zapolyarnoye field is located in the southern part of the Taz District, 220km away from Novy Urengoy, Yamal-Nenets Autonomous Area.
Objections
Environmentalists argue that it will create further dependence of Germany on fossil fuels, which will impact its fight against climate change.
The US says that the pipeline will make Europe further dependent on Russia for energy security. Russia could use it as a geopolitical weapon.
Countries like Ukraine, Poland and Belarus are also opposing it as they will lose billions as transit fees due to bypassing.
The US has threatened to impose sanctions on Nord Stream if Russia invades Ukraine. Germany has also said that it may be forced to impose sanctions.