Panel to study SC status of Dalits post-conversion
Context
A three-member commission to be headed by ex-CJI K.G. Balakrishnan has been asked to study the SC status of Dalits post-conversion.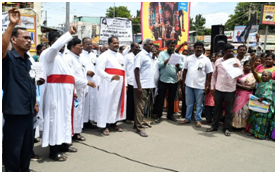 Details
The 2011 Census places the number of scheduled castes in India at 16.6 percent of the total population, or approximately 166,635,700 people.
The Union government is seeking to examine the issue of whether Scheduled Caste (SC) status can be accorded to Dalits who have over the years converted to religions other than Sikhism or Buddhism.
This is crucial when there is already a petition in the Supreme Court, regarding the inclusion of Dalit Christians and Dalit Muslims and the removal of the religious criteria for inclusion as SCs.
Who can be considered a scheduled caste?
The Constitution (Scheduled Castes) Order, 1950 provides for only those belonging to Hindu, Sikh, or Buddhist communities to be categorized as SCs.
Initially, the Order only allowed for Hindu communities to be classified as SCs based on the social disabilities and discrimination they faced due to untouchability.
It was amended in 1956 to include Sikh communities and again in 1990 to include Buddhist communities as SCs.
Caste:
Caste is something that is determined by the birth of an individual.
According to D.N. Mazumdar;
– 'Caste is a closed class' i.e. class refers to people based on property, business, occupation i.e. one cannot change his own caste system but can change the class system and can be a member of many classes at the same time.