Pilot projects launched to revive traditional Namda Craft
Context
Recently, Minister of Skill Development & Entrepreneurship (MSDE) has launched two projects—
Revival of Namda craft of Kashmir as a special pilot project under Pradhan Mantri Kaushal Vikas Yojana (PMKVY) 3.0
upskilling of artisans and weavers of Kashmir under Recognition of Prior Learning (RPL), component of PMKVY.
About
Key-objectives of the Scheme
To boost and preserve the traditional Namda craft of Kashmir and upskill the local weavers and artisans to enhance their productivity through RPL assessment and certification.

Due to low availability of raw material, lack of skilled manpower and marketing techniques, the export of this craft has declined almost 100 percent between 1998 and 2008.

The Namda project will benefit 2,250 people of 30 Namda Clusters and RPL initiative targets to upskill 10,900 artisans and weavers of Jammu and Kashmir.
This will also improve the access of existing artisans of Namda crafts cluster in Kashmir and will improve their prospects of employability.
What is Namda Craft?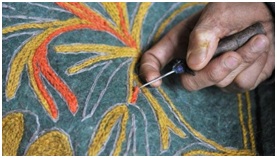 Namda craft is widely thought to have originated in the 11th century during the reign of Mughal emperor Akbar.
Namda craft is a rug made of sheep wool through a felting technique instead of the normal weaving process.
Namda Craft is extensively used in Kashmir households for floor covering and mattresses.
The process of preparing a namda includes:

Carding: The process of removal of dirt and foreign particles from wool and achieving uniform and consistent thickness.
Creating the border:After carding, the border is created to define the outline under which filling will be done.
Creation of layer: The wool is then spread evenly with in that border and thick layers are created. For the third layer, the most unused and unclean wool is used as it is the bottom most layer.
Sprinkling soap solution:A solution of soap and water is sprinkled over the layers with the help of a container and broom.
Rolling the namda:After sprinkling the soap solution, the mat is then tightly rolled and tied up with a rope and is then compressed by rolling to and fro on the floor with the help of hands and feet. This process is repeated for about an hour that allows the fusion of the fibres together-technically known as 'fibre to fibre' fusion.
Drying:After rolling the mat for an hour, the rope is untied and the mat is unrolled to discover the well-shaped namda. The derived plain namda is then dryed in the sun to remove any moisture present in the rug.
Aari work: At the end, the namda is embellished with beautiful ari work, which is optional.
Kashmir and craft
Kashmir is world famous for its handicrafts.
A few of these are pashmina weaving, sozni embroidery, kani shawl weaving, Kashmiri carpet, Kashmiri tilla work, papier machie, calico painting and basohli painting.