Regional Comprehensive Economic Partnership (RCEP) comes into effect
Context
The Regional Comprehensive Economic Partnership (RCEP) agreement, the world's largest free trade agreement, entered into force on January 1, 2022.
About
What is RCEP?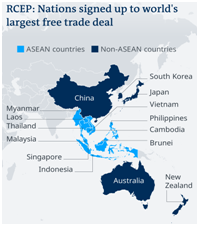 RCEP is a free trade agreement between Asia-Pacific nations of Australia, Brunei, China, Cambodia, Japan, Indonesia, Laos, South Korea, Malaysia, New Zealand, Myanmar, Singapore, Thailand, the Philippines, and Vietnam.

India and the United States are not members of RCEP.

The 15-member grouping accounts for 30% of the world's population and 30% of global GDP (2.2 billion people). Thus, it is the largest trade bloc in history.

By comparison, the United States-Mexico-Canada trade agreement (USMCA) covers 28% of world trade, while the European Union's Single Market is a distant third at nearly 18%.
Background
Negotiations on the RCEP deal started in 2012.
India was also part of the negotiations. However, India pulled out in 2019 because of concerns over lower tariffs.
Before India, RCEP excluded the USA, which had withdrawn from the Trans-Pacific Partnership (TPP) in 2017.
Why did India opt out?
India was a member of the RCEP drafting committee from its inception in 2011, but in November 2019, it decided to opt out.
Concerns regarding China: India did not join RCEP raising a concern that this deal would open it up to Chinese goods.
Safeguarding domestic interest: Its decision was to safeguard the interests of industries like agriculture and dairy and to give an advantage to the country's services sector.