Rising Electronics Exports as Bright Spot amid Economic Slowdown
The electronics exports have shown a rising tide amid slowdown in Indian economy and that is why it is in news.
Context
The electronics exports have shown a rising tide amid slowdown in Indian economy and that is why it is in news.
About
Total value of production of electronic goods increased from $31.2 billion in FY15 to $65.5 billion in FY19
Exports are led by mobile phones. India has become the 2nd largest producer of mobile phones, replacing Vietnam.
India started to become an alternate production destination because

Pull Factors include potential domestic demand and government policies to boost electronic exports.
Push Factors include trade tensions between the US and China. This is expected that the positive trend in India's electronic exports to continue.
Steps by Government to Boost Electronics Exports
Schemes to boost local manufacturing of electronic goods: These include Phased Manufacturing Programme for mobile handsets and related sub-assemblies/components manufacturing, National Policy on Electronics 2019, Electronics Manufacturing Clusters scheme and Modified Special Incentive Package Scheme.
Some countervailing duties were also announced to discourage imports of electronic goods.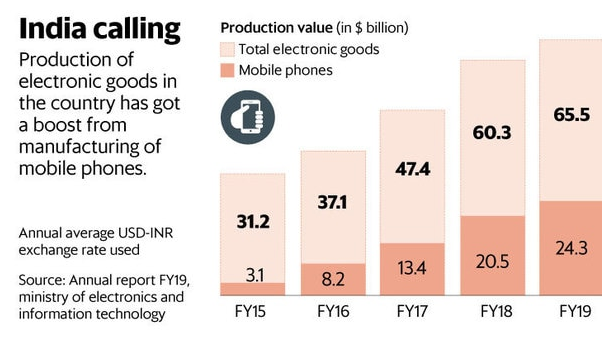 Significance
Significance
Avert BoP Crisis and control the stretched current account deficit (CAD)
Transfer of technology
Boost to manufacturing sector
Employment generation
Government Schemes Promoting Electronics Sector
National Electronics Policy (NEP), 2019
Launched in 2019 and it replaced NEP, 2012.
Vision

To position India as a global hub for Electronics System Design and Manufacturing (ESDM) by creating an enabling environment for the industry to compete globally.

Mission

Promote domestic manufacturing in the entire value-chain of ESDM, including core components and materials to increase the domestic value addition and reduce dependence on import of electronic goods by focusing on scale, skill and technology.
Strengthen India's linkages with global trade, integrate with global value chains and build facilitative programmes and incentive framework to boost Indian ESDM exports.
Develop capacities for manufacture in all sub-sectors of electronics, including semiconductor wafer fabrication and display fabrication (FAB) facilities and create a vibrant, dynamic and self-reliant Fabless Chip Design ecosystem in the country.
Build a risk-management ecosystem to promote and create a framework for a comprehensive Start-up ecosystem with focus on development of products, key components and technologies based on emerging technological landscapes.
Medical electronics, Defence Electronics, Automotive electronics, Industrial Electronics, Strategic Electronics, etc., and Fabless Chip Design.
Become a global leader in the Electronics Manufacturing Services (EMS) segment by promoting progressively higher value addition in manufacturing of electronic products.
Provide policy support and special package of incentives for highly capital intensive projects.
Drive indigenization in the microchips used by strategic and critical infrastructure sectors viz., Defence, Space, Atomic Energy, Telecom, Aviation, Power, etc., through design and production of such microchips.
Create specialized governance structures within the Government to cater to specific needs of the ESDM sector, in view of fast changes in technology and business models.
Facilitate cost effective loans for setting up and expansion of electronics manufacturing units.
Promote research, innovation and support to the industry in the areas of packaging, interconnects and micro photonics, as a long term measure to counter the problems posed by the continued use of Silicon, like the limit of scaling and dark Silicon.
Promote research, innovation and support to industry for green processes and sustainable e-Waste management, including safe disposal of e-Waste in an environment friendly manner, development of e-Waste recycling industry and adoption of best practices in e-Waste management

Strategy
Creating eco-system for globally competitive ESDM sector
Developing and Mandating Standards
Ease-of-doing-Business
Industry-led R&D and Innovation
Human Resource Development
Cyber Security
Export Promotion
Modified Special Incentive Package Scheme (M-SIPS)
M-SIPS was launched in 2012 under NEP, 2012 and ended in 2018
Aim

To promote large-scale manufacturing in the Electronic System Design and Manufacturing (ESDM) sector

Salient Features

M-SIPS provides for 25% subsidy on capital investment along with a host of other incentives.
It also provides for reimbursements of CVD/ excise for capital equipment for the non-SEZ units.
The incentives are provided on reimbursement basis.
The incentives were available for 29 electronic verticals.
The investment threshold varies from Rs 1 Crore to Rs 5000 Crores depending upon a type of project. The incentives are available for 10 years from the date of approval. The scheme was initially opened for 3 years till 26-07-2015.The scheme was amended on August 3, 2015 and been extended up to31.12.2018.
Electronics Manufacturing Clusters (EMC)
Launched in 2012to overcome disadvantages due to infrastructure
Encourages entities, including State Government entities, to provide good quality infrastructure within a cluster.
Under the scheme, 50% of the project cost for Greenfield EMC and 75% for Brownfield EMC is given by the Ministry of Electronics and Information Technology as grant.
Electronics Development Fund (EDF)
In order to promote startups and innovation, a scheme called Electronics Development Fund (EDF) was launched.
EDF is a fund of funds which invests in Venture funds, which in turn invests in ventures.
At least 50% of the corpus has to be invested in Ventures working in ESDM sector.
Under the scheme, 13 daughter funds have been approved with EDF commitment of Rs.857/crore. These funds are expected to invest Rs.6,951/- crore of corpus in startups.
Phased Manufacturing Programme (PMP)
The Phased Manufacturing Programme (PMP) for mobile handsets and related subassemblies/ components manufacturing has been implemented with the objective of progressively increasing the domestic value addition for establishment of a robust Cellular mobile handsets manufacturing eco-system in the country.
As a result, India has rapidly started attracting investments into this sector and Cellular mobile handsets manufacturing has emerged as a flagship sector in the electronics manufacturing space.