Shivaji's historic WaghNakh
Context
In a significant development, the UK authorities have agreed to return the iconic 'waghnakh,' a dagger shaped like tiger claws used by Maratha king ChhatrapatiShivajiMaharaj.
The small weapon is currently part of London's Victoria and Albert Museum.
About
The 'waghnakh,'(Tiger Claws) an artifact made of steel with four claws mounted on a bar and two rings for the first and fourth fingers.
This weapon holds historical significance as it was used by ShivajiMaharaj to kill Afzal Khan, the general of the Bijapur sultanate in 1659.
It was designed to slash through skin and muscle.
It holds a special place in the history for the people of Maharashtra.
Its return symbolizes a significant milestone in the state's cultural legacy and the reverence it holds for its iconic leader, Chhatrapati Shivaji Maharaj.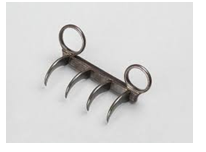 Chhatrapati Shivaji Maharaj:
He was born on 19th February 1630 at Shivneri Fort in District Pune in the present-day state of Maharashtra.
He was born to Shahaji Bhonsle, a Maratha general who held the jagirs of Pune and Supe under the Bijapur Sultanate, and Jijabai, a pious woman whose religious qualities had a profound influence on him.
Shivaji was not named after Lord Shiva. His name was derived from the name of a regional deity – 'Goddess Shivai.'
Contributions:
He revived ancient Hindu political traditions and court conventions and promoted the usage of Marathi and Sanskrit, rather than Persian, in court and administration.
India's first-ever navy in the modern era was built by Shivaji to protect the coast of Maharashtra.
He established a competent and progressive civil rule with the help of disciplined military and well-structured administrative organizations.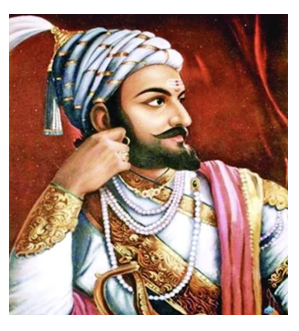 This year is been celebrating 350 years of the coronation ofChhatrapati Shivaji Maharaj.
The AshtaPradhan (Marathi: Council of Eight) set up by the ChhatrapatiShivajiMaharaj
1. Peshwa (Prime Minister )
2. Amatya (Finance Minister )
3. Shurunavis ( Secretary )
4. Waqia-Navis (Interior Minister )
5. Sar-i-Naubat (Commander-in-Chief )
6. Sumant (Foreign Minister)
7. Nyayadhish (Chief Justice )
8. Panditrao ( High Priest)
He innovated military tactics, pioneering non-conventional methods (guerrilla warfare) and leveraged strategic factors like geography, speed, and surprise.

He focused on pinpoint attacks to defeat his larger and more powerful enemies.
A brave and genuinely secular ruler, he respected women and cared for the downtrodden and farmers.

He died on 3rd April 1680.
Who was Afzal Khan?
He was a 17th-century commander of the AdilShahi dynasty of Bijapur.
With ChhatrapatiShivaji's rise and increasing control of the region, Afzal Khan was seen as the man to subdue him in the Deccan.
Khan put together a force of 10,000 cavalry and marched from Bijapur to Wai, plundering Shivaji's territory along the way.
Shivaji called a council of war at the fort of Pratapgarh, where most of his advisers urged him to make peace.
During the meeting, an embrace between the two turned into an attack in which Shivaji emerged victorious. This was followed by a rout of the Adilshahi army at the hands of the Marathas.
As per Maratha sources, Khan's remains were buried at the fort and a tomb was constructed on Shivajij's orders.
Important Battle:
| | |
| --- | --- |
| Battle of Pratapgad, 1659 | Fought at the fort of Pratapgad near the town of Satara, Maharashtra, between the forces of the Maratha king ChhatrapatiShivajiMaharaj and the Adilshahi general Afzal Khan. |
| Battle of PavanKhind, 1660 | Fought at a mountain pass in the vicinity of fort Vishalgad, near the city of Kolhapur, Maharashtra, between the Maratha SardarBajiPrabhuDeshpande and SiddiMasud of Adilshahi. |
| Sacking of Surat, 1664 | Fought near the city of Surat, Gujarat, between ChhatrapatiShivajiMaharaj and Inayat Khan, a Mughal captain. |
| Battle of Purandar, 1665 | Fought between the Mughal Empire and Maratha Empire. |
| Battle of Sinhagad, 1670 | Fought on the fort of Sinhagad near the city of Pune, Maharashtra between TanajiMalusare, a commander of Maratha ruler ShivajiMaharaj and UdaybhanRathod, fortkeeper under Jai Singh I who was a Mughal Army Chief. |
| Battle of Kalyan, 1682-83 | Bahadur Khan of the Mughal Empire defeated the Maratha army and took over Kalyan. |
| Battle of Sangamner, 1679 | Fought between the Mughal Empire and Maratha Empire. This was the last battle in which the Maratha King Shivaji fought. |