Weekly Current Affairs: April week-3 - Sovereign Gold Bonds
The Government of India, in consultation with the Reserve Bank of India, has decided to issue Sovereign Gold Bonds.
Context
The Government of India, in consultation with the Reserve Bank of India, has decided to issue Sovereign Gold Bonds.
About
Sovereign Gold Bonds are government securities denominated in grams of gold. They are substitutes for holding physical

Investors have to pay the issue price in cash and the bonds will be redeemed in cash on maturity.

The Bond is issued by Reserve Bank on behalf of Government of India.

The quantity of gold for which the investor pays is protected, since he receives the ongoing market price at the time of redemption/ premature redemption. The SGB offers a superior alternative to holding gold in physical form.

The risks and costs of storage are eliminated. Investors are assured of the market value of gold at the time of maturity and periodical interest. SGB is free from issues like making charges and purity in the case of gold in jewellery form.

The bonds are held in the books of the RBI or in demat form eliminating risk of loss of scrip etc.
Key-details of the Scheme:
The Sovereign Gold Bonds will be issued in six tranches from April 2020 to September 2020, according to a statement issued by the Ministry of Finance.
The Bonds will be sold through:

Scheduled Commercial banks (except Small Finance Banks and Payment Banks)
Stock Holding Corporation of India Limited (SHCIL)
designated post offices
recognized stock exchanges viz., National Stock Exchange of India Limited and Bombay Stock Exchange Limited

The minimum investment limit for Sovereign Gold Bond is 1 gram of gold, while the maximum limit of subscription is 4 kg for individual, 4 kg for HUF and 20 kg for trusts and similar entities, as notified by the government from time to time.
The tenor of the Bond will be for a period of 8 years with exit option after completion of five years.
Comparing SGB with Physical gold & Gold ETFs: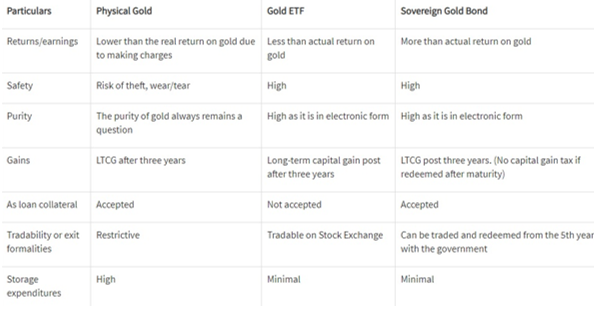 Advantages of Sovereign Gold Bonds
Absolute Safety

: These bonds do not carry risks associated with physical gold, except the market risks.

Extra Income

: One can earn a guaranteed annual interest at the rate of 2.50 percent (on the issue price).

Indexation benefit: By transferring bond before maturity, one can get indexation benefits. In addition to this, there is also a sovereign guarantee on the redemption money as well as on the interest earned.