Remote EVM ready to help migrants vote outside States: ECI
Context
The Election Commission of India (ECI) says that it has developed a prototype for a Multi-Constituency Remote Electronic Voting Machine which would enable remote voting by migrant voters.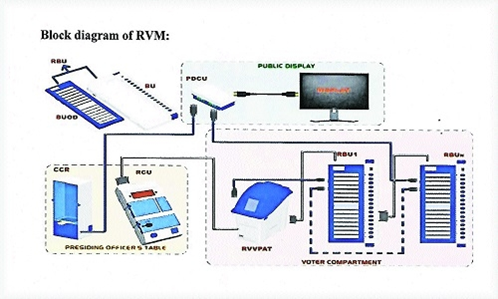 More about the news
The problem: migration-based disenfranchisement
Domestic migration:

It has been a big reason why registered voters do not end up voting.

Increasing numbers:

As per the 2011 census, there are nearly 45.36 crore migrants in India (both intra and interstate).

Voting denied

: For a large chunk of the population, its franchise gets denied due to exigencies of work or lack of resources to travel.

This goes directly against the EC's "No voter left behind" goal.
The proposed solution: Remote EVMs
Committee of Officers on Domestic Migrants:

The EC has formed this committee to consider various solutions:
All of these ideas were rejected due to reasons such as the lack of secrecy of the vote, the lack of sanctity of one person one vote principle, issues of accessibility for unlettered voters, etc.
Thus, a technological solution was proposed: Remote Electronic Voting Machine (RVM).
Remote Electronic Voting Machine (RVM)
Standalone system:
It

is an application or software that does not need to be bundled with other software or applications, nor does it require anything else to function.
It's software that can "stand on its own" without help from the Internet or another processor computer.
Working of RVM
The voting process will be as follow:
After verifying a voter's identity, their constituency card will be read with a public display showing the constituency details and candidates.

This will also be displayed privately, on the BUOD in the RVM's RBU.

The voter will then vote and each vote will be stored constituency-wise in the control unit of the voting machine.

The VVPAT system is expected to work along the same lines as the new technology.
Voter verifiable paper audit trail (VVPAT) or verified paper record (VPR) is a method of providing feedback to voters using a ballotless voting system.
Significance:
Verifying, please be patient.
Our Centers
DELHI (Karol Bagh)
GS SCORE, 1B, Second Floor, Pusa Road, Karol Bagh, New Delhi - 110005 (Beside Karol Bagh Metro Station Gate No. 8)
BHUBANESWAR (Jaydev Vihar)
GS SCORE, Plot No.2298, Jaydev Vihar Square, Near HCG Day Care, BBSR - 751013
LUCKNOW (Aliganj)
GS SCORE, 2nd Floor, B-33, Sangam Chauraha, Sector H, Aliganj, Lucknow, UP - 226024