Satellite based methane Alert and Response System
Context
A new satellite-based Methane Alert and Response system will now help governments detect methane emissions and tackle them.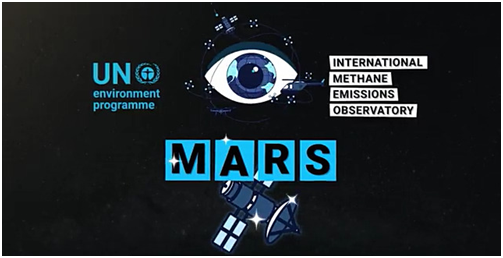 About
Methane Alert and Response System (MARS):
It is launched at the 27th Conference of Parties (COP27) to the United Nations Framework Convention on Climate Change in Sharm El-Sheikh, Egypt.
MARS is a part of global efforts to slow climate change by tackling global warming gas.
It will use state-of-the-art satellite data to identify significant emission events, notify relevant stakeholders, and support and track mitigation progress.
MARS will integrate data from the rapidly expanding system of methane-detecting satellites to include lower-emitting area sources and more frequent detection.
Data on coal, waste, livestock, and rice will be added gradually to MARS to support the Global Methane Pledge

India has not signed up for the Global Methane Pledge.
Components of the Methane Alert and Response System
MARS will use data from global mapping satellites to identify very large methane plumes and methane hot spots and data from high-resolution satellites to then attribute the emissions to a specific source.
UNEP(United Nations Environment Programme) will then notify governments and companies about the emissions, either directly or through partners, so that the responsible entity can take appropriate action.
If requested, MARS partners will provide technical or advisory services such as help in assessing mitigation opportunities.
UNEP will continue to monitor the event location and make the data and analysis available to the public between 45 and 75 days after the detection
About Methane:
Methane is a rapidly accelerating part of the climate problem.
It is the primary component of natural gas, and it warms the planet more than 80 times as quickly as a comparable volume of atmospheric CO2 over a comparable amount of time.
Sources of Methane:
Biological Sources: There are biological sources of methane - it is made from some organic compounds by methane-generating microbes known as methanogens.

Methanogens are found in various natural environments where little or no oxygen is present.
Such environments include wetlands, landfills that are not well-vented, and submerged paddy fields.

Agriculture: Agriculture is the predominant source of global methane emissions. Livestock emissions – from manure and gastroenteric releases – account for roughly 32% of human-caused methane emissions. Cows also belch out methane.
Paddy rice cultivation – in which flooded fields prevent oxygen from penetrating the soil, creating ideal conditions for methane-emitting bacteria – accounts for another 8% of human-linked emissions.
Emissions from Fuel and Industries: Fugitive emissions of methane from gas, coal, and oil sites are contributing to the climate crisis, but the extent of leakage of this potent greenhouse gas has been difficult to determine.

Methane leakage occurs at every stage of the supply chain from extraction and transport to use in homes and industries.
Much of the methane being released is due to "ultra-emitters", which spew out copious amounts of the gas.
Steps were taken to Curb Methane Emissions:
COP 26 Pledges: At COP26 in Glasgow, over 100 countries signed an agreement to cut methane emissions by 30% by 2030.
The US President has announced the Global Methane Pledge, which is a US-EU-led effort to cut methane emissions by a third by the end of this decade.
MethaneSAT: Controlling methane emissions will require further scrutiny of its sources. To this end, satellites that will track methane leakage such as MethaneSAThave been planned to launch.
The International Energy Forum (IEF) launched the IEF Methane Initiative in June 2021 to develop a methane emissions measurement methodology.
India's methane emissions and mitigation initiative
Global Methane Initiative (GMI) website, India ranks fourth, and its methane emissions are nearly one-third that of China.
India's Initiative:
Central Salt & Marine Chemical Research Institute (CSMCRI) in collaboration with the country's three leading institutes developed a seaweed-based animal feed additive formulation that aims to reduce methane emissions from cattle and also boost the immunity of cattle and poultry.
Indian Council of Agricultural Research (ICAR) has developed an anti-methanogenic feed supplement 'HaritDhara' (HD), which can cut down cattle methane emissions by 17-20% and can also result in higher milk production.
Updated Nationally Determined Contribution: India now stands committed to reducing the Emissions Intensity of its GDP by 45 percent by 2030, from the 2005 level.
Galvanizing Organic Bio-Agro Resources (Gobar-Dhan)
New National Biogas and Organic
National Livestock Mission
Verifying, please be patient.