Strategy to make School Education a boon via Community participation
Context
India's goal to achieve universal Foundational Literacy and Numeracy in all primary schools must be based on state-wise targets and should involve local community participation.
About
Need for the reforms:
Several attempts, by the state governments & the Centre to promote the involvement of the local community in primary education were done using several schemes to incentivize education in schools, teacher training sessions, and many more.
But we still are unable to find a systemic way of recruiting good teachers and establishing teacher development institutions.
The recruitment of teachers, educators, and administrators has to become a priority if we want to make a difference.
Foundational literacy and numeracy are necessary to prepare a generation of learners who will secure for India high rates of economic progress and human well-being.
The Efforts so far:
The Shiksha Karmi Project: was started in 1987 for schools to tackle teacher absenteeism in remote villages in Rajasthan. Active involvement of the local communities was a crucial part of the project. By supporting and training local persons, the project succeeded in creating teachers.
The Bihar Education Project was introduced in the early 1990s to support the universalization of primary education. It developed a 10-day residential-service training for teachers, called the Ujala module.
The LokJumbish was launched in 1992 in Rajasthan and aims to provide a thrust to innovations and emphasize civil society partnership, this program demonstrated successes, especially in tribal districts.
The Unni Krishnan v. State Of Andhra Pradesh states that the right to education for children up to age 14 is central and fundamental.
The District Primary Education Programme was started in 1994, to universalize and transform the quality of primary education. Sarva Shiksha Abhiyan, aimed at the universalization of elementary education, was launched in 2001. While it has made a difference in school participation and has brought about improvement in school infrastructure, uniforms, toilet access, and water and textbook availability, classroom processes remain a challenge.
Challenges associated:
Infrastructure deficit: Dilapidated structures, single-room schools, lack of drinking water facilities, separate toilets and other educational infrastructure is a grave problem.
Corruption and leakages: The transfer of funds from the central to state to local governments to schools leads to the involvement of many intermediaries.
High rates of corruption and leakages plague the system, undermine its legitimacy and harm the many officials.
Quality of Teachers: Lack of well-trained, skilled, and knowledgeable teachers which provide the foundation for a high-quality education system.
Non-Academic burden: A study by the National Institute of Education Planning and Administration (NIEPA) revealed that teachers spend only around 19 percent of their time teaching while the rest is spent mostly on non-teaching administrative work.
Poor salary: Teachers are paid miserly salaries which affects their interest and dedication to work. They will look for other avenues like tuition or coaching centers and coax the students to attend them.
Teacher Absenteeism: The absence of teachers during school hours is rampant. The lack of accountability and poor governance structures add to the woes.
Lack of Accountability: School Management Committees are largely dysfunctional. Many exist solely on paper.

Parents are often not aware of their rights and if they are it is difficult for them to make their voices heard.

High drop-out rates: The drop-out rates in schools, especially for girls, is very high.

Many factors like poverty, patriarchal mindset, lack of toilets in schools, distance to schools, and cultural elements lead to children dropping out of education.
Provisions of National Education Policy 2020: (For Schools)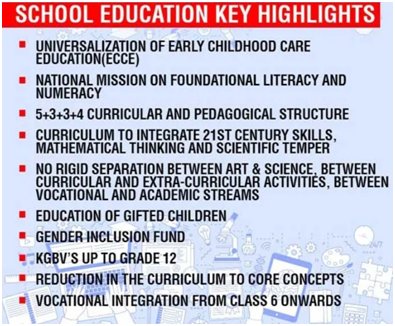 Way Forward
To work on community connect and parental involvement.
Panchayats and community collectives with very high social capital, such as women self-help groups, can help ensure that local households own the initiative.
The Central, State and local governments need to transform governance to ensure that everyone delivers their best.
Verifying, please be patient.