Tipu Sultan and the Controversy around his Contributions
Context:
Tipu Sultan became a symbol of resistance against British rule, with emphasis on aspects of his persona which suited the nationalist narrative. Today, there has been increased spotlight on his autocratic tendencies and brutal repression in annexed territories, with an increased emphasis on his religion.
Historical Background:
Tipu Sultan was born Sultan Fateh Ali Sahab Tipu, (1751 –1799), also known as the Tiger of Mysore, and was the ruler of the Kingdom of Mysore based in South India.

Hyder Ali

was the father of Tipu Sultan.

Hyder Ali was the military officer who served the kingdom of Mysore and then became the de facto ruler of the province in 1761.

Fatima Fakhr-un-Nisa

was the mother of Tipu Sultan.

Tipu Sultan handed over the command to important military and diplomatic missions when he was just 17 years of age.

Tipu Sultan was the right-hand man of his father in the wars and this helped Hyder Ali capture the thrones of southern India.

Tipu Sultan died defending his fortress of Srirangapatna against British forces in the Fourth Anglo-Mysore War in 1799.
His forces were heavily outnumbered and his French allies had not been able to come to his aid.

His final act of valor and defiance has been glorified by many who see him as a nationalist, anti-colonial icon.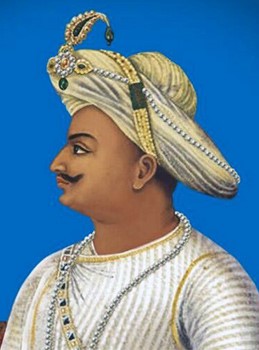 His Struggle against the British:
First Anglo-Mysore War (1767-69)
Second Anglo-Mysore War (1780-84)
The British seized the French-controlled port of Mahe in 1779, which Tipu had protected by supplying troops for its defense.

Hyder Ali launched an invasion of the Carnatic in response, with the aim of driving the British out of Madras.

Tipu Sultan successfully reclaimed Chittur from the British in December 1781.

Tipu Sultan recognized the British as a new form of threat to India.

By the time Hyder Ali died on December 6, 1782, Tipu Sultan had acquired sufficient military experience.
The Treaty of Mangalore, signed in 1784, put an end to the Second Mysore War.
Third Anglo-Mysore War (1790-92)
On 28th December 1789, Tipu Sultan gathered troops in Coimbatore and launched an assault on Travancore's lines, knowing that Travancore was a British East India Company ally (according to the Treaty of Mangalore).

Lord Cornwallis

responded by mobilizing company and British military powers, as well as forming alliances with the Marathas and the Nizam of Hyderabad, in order to defeat Tipu.

The company forces advanced in 1790, capturing a large portion of the Coimbatore district. Tipu launched a counter-offensive, retaking most of the territory, though the British retained control of Coimbatore.

In 1791, his adversaries made gains on all fronts, with Cornwallis' main British force capturing Bengaluru and threatening

Tipu Sultan harassed British supply and communication lines and implemented a scorched earth strategy of refusing the invader's local resources.

Cornwallis was successful in this last attempt, as a shortage of provisions forced him to retreat to Bengaluru rather than attempt a siege of Srirangapatna.
Fourth Anglo-Mysore War and Death of Tipu Sultan: (1799)
Tipu Sultan as an Administrator:
He started the Navy as a department for wars in the ocean for the first time.
With highly productive agriculture and textile manufacturing, Mysore overtook Bengal Subah as India's dominant economic force during his reign.

Construction of Dams:

On the Kaveri River, Tipu Sultan laid the base for the Kannambadi dam (Krishna Raja Sagara or KRS dam).
During Tipu Sultan's reign, a new land revenue system was developed which initiated the growth of the Mysore silk industry for the first time.
Tipu Sultan was a moral administrator. Liquor use and prostitution were strictly banned during his rule. Psychedelics, such as Cannabis, were also banned from use and cultivation.
Tipu Sultan introduced a new coinage system and calendar.
Verifying, please be patient.