Underwater metro tunnel in Kolkata - India's first - to be ready in 2023
Context
The construction of India's first underwater tunnel in Kolkata under the Hooghly River for establishing metro connectivity between Howrah and Kolkata is underway and will be made fully functional by 2023.
About
India's first underwater Metro
The 'City of Joy'is about to experience a wonder in the form of an underwater Metro train which will run beneath the Hooghly river.
It's one of the path-breaking projects in India as never before a tunnel has been dug beneath a flowing river. This will be India's first underwater transportation tunne

The Kolkata Metro transportation tunnel is unique to India because never before in the history of the country has a tunnel been made under a flowing river.

The tunnel has been constructed 30 metres below riverbed, just a few metres away from the famous Howrah Bridge, built in the last century to connect Howrah and Kolkata.

There aren't even roads that are under a river in India making the Kolkata Metro tunnel a complete technology marvel which will see trains will chugging through it every two and a half minutes.

It will be connecting two main terminals: Howrah and Sealdah- each of which has a footfall of about 10-12 lakh passengers per day.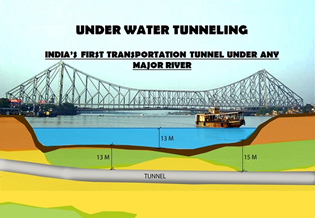 Characteristics of the Project:
Tunnel dug 30 metre underground

Total distance between impervious layer and river is 13 metres

Total length of track is 16.6 km

Automatic train with no driver. Can be driven remotely too

Type of track is ballast less and the length of underground track is 10.8 km

Type of gauge is standard gauge 1,435

Will connect Howrah and Sealdah — the busiest railway terminals in West Bengal

Number of tunnels is two

Six air-conditioned coaches in each train

Number of passengers per train will be around 1,000
Verifying, please be patient.