Jammu Kashmir to host G-20 summit in 2023.
Context
Jammu and Kashmir will be hosting the 2023 meetings of the G20.
About
India will assume the G20 Presidency on December 1, 2022 from Indonesia and will convene the G20 Leaders' Summit for the first time in India in 2023.
The Jammu and Kashmir administration constituted a five-member committee for coordination with the Ministry of External Affairs (MEA).
Principal Secretary to the government, Housing and Urban Development department, has been nominated as chairman of the committee.
He is also nominated as UT-level nodal officer to coordinate the arrangements for G-20 meetings in Jammu and Kashmir.
The four members of the committee are the Commissioner, Transport Department; Administrative Secretary, Tourism Department; Administrative Secretary, Hospitality and Protocol Department; and Administrative Secretary, Culture Department.
G20:
The G20 comprises 19 countries and the European Union.
The 19 countries are Argentina, Australia, Brazil, Canada, China, Germany, France, India, Indonesia, Italy, Japan, Mexico, the Russian Federation, Saudi Arabia, South Africa, South Korea, Turkey, the UK, and the US.
G20 members accounting for more than 80 per cent of global GDP, 75 per cent of global trade and 60 per cent of the worldwide population.
Historical background:
Originated in 1999 at the level of Finance Ministers and Central Bank Governors, the G20 gathered for high-level discussions on macro-financial issues.
In the wake of the 2008 global financial crisis, the G20 was elevated to include the leaders of member countries.
The first G20 Leaders' Summit took place in Washington D.C. in November 2008. Consequently, the G20 agenda expanded beyond macro-financial issues, to include socio-economic and development issues.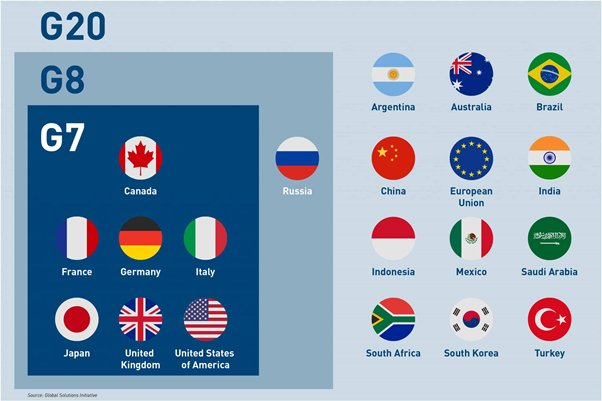 Verifying, please be patient.