Practice of talaq-e-hasan not so improper: SC
Context
The Supreme Court recently, prima facie observed that the Muslim personal law practice of talaq-e-hasan is "not so improper".
About
SC Observation:
Prima facie this (talaq-e-hasan) is not so improper. Women also have an option. Khula is there.
Talaq-e-hasan: Talaq-e-hasan is a form of divorce by which a Muslim man can divorce his wife by pronouncing talaq once every month over a three-month period.
Khula: A Muslim woman has the option to divorce by the process of khula by returning the dower (mahr) or something else that she received from her husband or without returning anything, as agreed by the spouses or Qadi's (court) decree depending on the circumstances.
Arguments in Petition:
Talaq-e-hasan is arbitrary, irrational and contrary to Articles 14, 15, 21 and 25 and international conventions on civil rights and human rights.
It said there should be a "gender neutral, religion neutral, uniform grounds of divorce and uniform procedure of divorce for all citizens".
The petitioner argued that the practice in question was "neither harmonious with the modern principles of human rights and gender equality nor an integral part of Islamic faith".
Classification of Dissolution of Marriage
The different kinds of methods for dissolution of marriage under Muslim law are: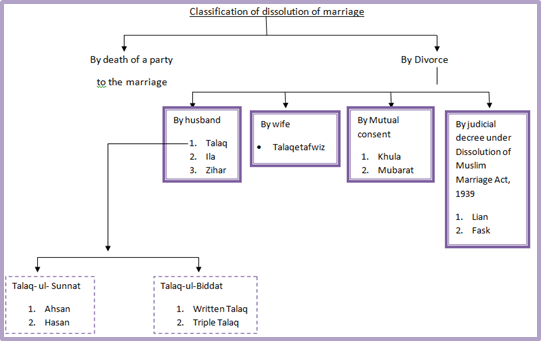 Triple Talaq:
After the 2017 judgement of the Supreme Court held and declared triple talaq unconstitutional, under Muslim law, both husband and wife are given equal rights to dissolve their marital relationship.
When two people enter into a marital relationship, they might not know each other so well, as they got to know each other after living together. And after that, if there is no compatibility between the two, living apart is the best choice to be made.
Bad relations may spoil the life of both the individuals and under Muslim law, talaq is an ancient practice and is not recognised as a sinful act, unlike under Hindu law.
Verifying, please be patient.