125th Anniversary of Sri Ramakrishna Math
Context
The Prime Minister has participated in the 125th Anniversary celebrations of Sri Ramakrishna Math at Vivekananda House in Chennai.
About the Ramakrishna Mission:
Ramakrishna Paramahamsa (1836-1886), a 19th-century saint, was the founder of the Ramakrishna Order of monks and is regarded as the 'spiritual founder' of the Ramakrishna Movement.
Ramakrishna was a priest in the Dakshineswar Kali Temple and attracted several monastic and householder disciples.
Narendra Nath Datta (1863-1902) later known as Swami Vivekananda was the most devoted pupil of Ramakrishna Paramahamsa who carried the message of his Guru Ramakrishna all over the world, especially in America and Europe.
Later, Vivekananda became the first spiritual leader who thought beyond religious reforms.
He felt that Indian masses required secular as well as spiritual knowledge to empower them to believe in themselves.
Vivekananda established the Ramakrishna mission after the name of his guru Ramakrishna Paramahamsa.
Through his speeches and writings, he brought out the essence of Hindu culture and religion.
He believed in the spirit of Vedanta and the essential unity and equality of all religions.
In 1893, he participated in the All World Religious Conference (Parliament of Religions) at Chicago in the United States of America. He argued that Vedanta was the religion of all and not of the Hindus alone.
Ramakrishna Math: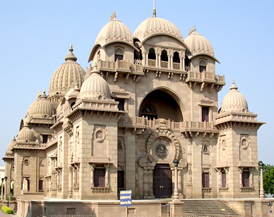 The Ramakrishna Math is headquartered at Belur math on the bank of river Ganga in West Bengal.
After the death of Ramakrishna in 1886, the monastic disciples formed the first Math (monastery) at Baranagore.
Ramakrishna Math is an Order of sannyasins having Sri Ramakrishna (1836-1886), regarded as the prophet of the modern age, as the ideal.
Ramakrishna Math is a registered society engaged in the service of mankind in the spirit of 'service of God in man'.
Ramakrishna Math was registered as a Trust in 1901 by Swami Vivekananda himself.
Teachings of Ramakrishna Paramahamsa:
Ramakrishna Paramahamsa highlighted the essential unity of religions and the need to lead a spiritual life.
He believed that the different religions of the world are only different ways to reach the same god.
He believed that there were many roads to God and the service of man was the service of God, because the man was the embodiment of God.
Hence, sectarianism had no place in his teachings.
He realised the divinity in humanity and looked upon the service of mankind as a means to salvation.