J & K's Basohli paintings get GI Tag
Context
Recently, the Basholi (Basoli) paintings received the Geographical Indication (GI) tag following approval of the National Bank for Agriculture and Rural Development, Jammu.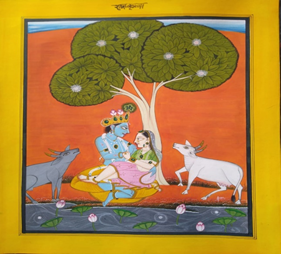 About
Basholi painting is a reputed school of miniature paintings.
The Basohli painting of Kathua is the first independent GI-tagged product from Jammu region.
Basohli painting, school of Pahari miniature painting that flourished in the Indian hill states during the late 17th and the 18th centuries, known for its bold vitality of colour and line.
Basholi is a town in Kathua district in the state of Jammu and Kashmir, India.
Key features:
These paintings known for its vivid, evocative colors, bold lines, and deep-set facial patterns.
It was founded by Raja Bhupat Pal in the 16th century.
Basholi paintings are considered as the first school of Pahari paintings, many of which have evolved into the much more detailed and widespread style of Kangra painting school.
Geographical Indication (GI) tag:
The GI is a form of intellectual property right that identifies goods originating from a specific geographical location and having distinct nature, quality and characteristics.
The Geographical Indication is recognised by the World Trade Organization.
India became a signatory to this convention, when, as a member of WTO, it enacted the Geographical Indications (Registration and Protection) Act, of 1999, which came into effect on September 15, 2003.
Paintings in India:
Principles of Indian Paintings:
Hinduism, Buddhism, and Jainism were three new religions that emerged in India, and they all provided important sources of inspiration for artists.
The development of Indian Paintings has been significantly influenced by various factors, including India's deep-rooted history and culture.
In the famous paintings of India, spiritual themes, noble ideals, and common beliefs are depicted.
In the third century AD, Vatsyayana wrote about the six main shadanga or principles of Indian painting in his work Kamasutra. These were:

Various Forms: Rupabheda
Emotional immersion: Lavanyayoganam
Combining colours to simulate modelling effects: Varnikabhanga
The proportion of the object or subject: Pramanam
The portrayal of the subject's likelihood: Sadrisyan

The use of colour to create lustre and gleam: Bhava
Miniature Indian Paintings:
When India first came into contact with the Islamic civilization, miniature painting finally reached its full potential.
Indian painting underwent a new stage of development during the Mughal Empire when the workshops were created at the Imperial court.
From there, artworks like illustrated manuscripts, book miniatures, portraiture, celebratory or genre scenes, and many others spread throughout India.
Key features of miniature paintings:

Miniature Indian paintings are characterized by small and detailed paintings.
Some famous miniature paintings include:
Ragamala (1680 AD)
Bhairavi Ragini Painting
Bani Thani (Monalisa of India) by Nihâl Chand and Radha and Krishna of Kishangarh
Gita Govind, Palm Leaf Painting
Human figures are mostly seen in side profiles, bulging eyes, slim waists, pointed noses, etc.
Different colours were used for different characters, and various bases were used.
Often painted on paper, clothes, palm leaves, etc.
The characteristics of Miniature painting varied in different regions of the country.