Punjab to use ancient broadcasting technique to grow rice this Kharif, save groundwater
Context
The Punjab government has decided to bring an area of 1.2 million hectare (mha) of under the Direct Seeding of Rice (DSR) method in the upcoming Kharif sowing season to conserve water while sowing paddy.
This is double the area that was sown under DSR in 2021 (0.6 mha).
About
Direct Seeding of Rice (DSR) method:
DSR is direct seeding of rice in which seeds are sown in the field rather than by transplanting seedlings from the nursery.
It aims to sow short duration and high yield varieties.
It is done through DSR machines which are used for planting seeds of rice directly into the fields.
DSR is also called the 'broadcasting seed technique', under which seeds are directly drilled in the fields.
The field is laser levelled and pre-sowing (rauni) irrigation is done.
The field is prepared to optimum soil moisture condition and paddy (non-basmati) is seeded immediately.
This technique saves groundwater and thus electricity, as opposed to the traditional water-intensive method.
It can help reduce water consumption by as much as 35 per cent over the traditional process of transplanting rice seedlings from a nursery to waterlogged fields.
Transplanting Paddy:
In transplanting paddy, farmers prepare nurseries where the paddy seeds are first sown and raised into young plants.
The nursery seed bed is 5-10% of the area to be transplanted.
These seedlings are then uprooted and replanted 25-35 days later in the puddled field.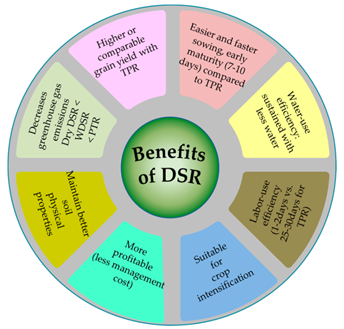 Rice
Rice is a staple food for the overwhelming majority of the population in India.
It is a kharif crop which requires high temperature, (above 25°C) and high humidity with annual rainfall above 100 cm.

In the areas of less rainfall, it is grown with the help of irrigation.

In southern states and West Bengal the climatic conditions allow the cultivation of two or three crops of rice in an agricultural year.

In West Bengal farmers grow three crops of rice called 'aus', 'aman' and 'boro'.

About one-fourth of the total cropped area in India is under rice cultivation.

Leading producer states: West Bengal, Uttar Pradesh, and Punjab.
High Yielding States: Punjab, Tamil Nadu, Haryana, Andhra Pradesh, Telangana, West Bengal and Kerala.

Punjab and Haryana are not traditional rice growing areas.

Rice Cultivation in the irrigated areas of Punjab and Haryana was introduced in the 1970s following the Green Revolution.
Almost the entire land under rice cultivation in Punjab and Haryana is irrigated.