Sindhudurg Fort
Context
In line to celebrate Navy Day 2023, the government is planning to get it held at the iconic Sindhudurg Fort off the Maharashtra coast, built by Maratha ruler ChhatrapatiShivajiMaharaj in the 17th century.
India celebrates Navy Day on December 4 to commemorate the Indian Navy's attack on the Karachi harbour during the 1971 war against Pakistan.
About
About Sindhudurg Fort: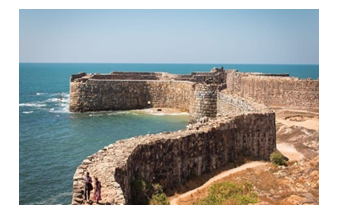 The Sindhudurg Fort was built in the 1668, built by ChhatrapatiShivajiMaharaj.
This sea fort is considered a masterpiece in military defense.
Its main objective was to counter the rising influence of foreign (English, Dutch, French and Portuguese) merchants and to curb the rise of Siddhis of Janjira.
It is Located in Sindhudurg district, Maharashtra.
Sindhudurg fort is located on a small island surrounded by the Arabian Sea near the shore of Malvan.
The fort is spread across 48 acres.
It was constructed using locally available laterite stone.
The fort has witnessed several battles, including the Battle of Sindhudurg.ChhatrapatiShivajiMaharaj's naval power symbol.
There are three temples on the fort namely Jari Mari Temple, ShriBhavani Temple and Shri Shiv Rajeshwar Temple.
It took 100 architects and manpower of 3000 to complete the construction of the fort in 1667.
Strategic significance:

Built to defend the Konkan coast against foreign invasions.
A naval base for Maratha Empire to control the Arabian Sea.
Well-planned fortification to protect against enemy ships.
Important Facts:
The Malvan Marine Sanctuary is a coastal conservation area situated in the state of Maharashtra, India. The sanctuary is known for its rich marine biodiversity and diverse habitats.
Notably, the sanctuary includes the historic Sindhudurg Fort, a monumental structure constructed byChhatrapatiShivajiMaharaj. This fort adds cultural and historical significance to the conservation area.
Battle of Sindhudurg:
In 1713, the fort was besieged by the British under the command of Colonel Robert Cowan, but it withstood the attack and the British forces retreated.
The fort was also attacked by the Portuguese forces in 1737, but they were repelled by the Maratha forces.
The British captured it in 1765.