Pulikali festival
Context
As part of the Onam 2023 celebration in Kerala, people across state performed Pulikali (tiger dance).
Pulikali festival:
Pulikali is a traditional folk art form and festival celebrated in the southern Indian state of Kerala.
The word "Pulikali" translates to "Tiger Play" in Malayalam, the local language. It involves participants painting their bodies to resemble tigers.
Participants, known as "Pulikali artists," wear colorful costumes resembling tigers and dance through the streets of Kerala's cities and towns.


The festival is usually part of Onam celebrations, Kerala's harvest festival, and is performed to entertain people and showcase the rich cultural heritage of the state.
Pulikali involves lively and energetic performances, with drummers accompanying the artists, creating a vibrant and captivating spectacle that attracts both locals and tourists.
About Onam: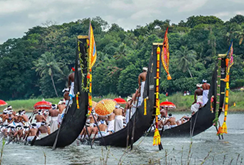 Onam is the most important and widely celebrated harvest festival in the southern Indian state of Kerala.
The festival typically lasts for ten days, with the main celebrations taking place in the month of Chingam, which falls in August or September of the Gregorian calendar.
Onam is associated with the mythological King Mahabali, who is believed to have been a wise and benevolent ruler. People celebrate his return to Kerala during Onam.
During Onam, people wear traditional clothing known as "Mundu" for men and "Kasavu saree" for women. These outfits are elegant and white with gold borders.
Onam is known for its grand feasts called "Onasadya," which includes a variety of vegetarian dishes served on banana leaves.
Folk dance forms like "Kathakali" and "Pulikali" are performed during Onam, along with other cultural events and competitions.
The "Vallamkali" or snake boat races are a major highlight of Onam, with beautifully decorated long boats competing in thrilling races.
Onam is often referred to as the "State Festival of Kerala" and holds a special place in the hearts of Keralites. It reflects the state's cultural diversity and traditions.
Verifying, please be patient.
Our Centers
DELHI (Karol Bagh)
GS SCORE, 1B, Second Floor, Pusa Road, Karol Bagh, New Delhi - 110005 (Beside Karol Bagh Metro Station Gate No. 8)
BHUBANESWAR (Jaydev Vihar)
GS SCORE, Plot No.2298, Jaydev Vihar Square, Near HCG Day Care, BBSR - 751013
LUCKNOW (Aliganj)
GS SCORE, 2nd Floor, B-33, Sangam Chauraha, Sector H, Aliganj, Lucknow, UP - 226024