Santhali Sohrai murals: An etch in time
Context
The Santhali communities of Odisha and Jharkhand are changing their ways of painting Sohrai murals.
About
About Santhals:
The Santal, or Santhal, are an ethnic group native to India and Bangladesh in South Asia.
Santals are the largest tribe in the Jharkhand state of India in terms of population and are also found in the states of Assam, Bihar, Odisha and West Bengal.
The word 'Santal' is derived from two words; Santa meaning calm and peaceful and ala meaning man.

In the past, the Santals were leading a nomadic life.

Gradually they came to settle down in the Chotanagpur plateau.

Ethnic Language of Santal:

Santali language belongs to the sub family of Austro-Asiatic cluster and classified under the 'Mundari' group of languages.
They have their own scripts known as Ol-Chiki discovered by Pandit Raghunath Murmu in the year 1920s.

Initially 'Ol-Chiki' was regarded as copied one and also considered as one which doesn't have any characteristic of language.

In the year 2003, the Santali language has been included in the eighth schedule of the Constitution of India.
About Sohrai Khovar Painting: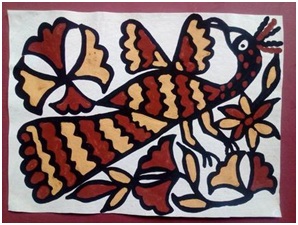 Verifying, please be patient.