India and South Korea are manufacturing similar lines of products, which has positioned them as competitors in the global export market.
Details:
India's Tejas and South Korea's FA-50 Light Combat Aircraft (LAC) can be seen competing for the Malaysian Light Attack Fighter contract.

The South Korean aircraft appears to be having a slight advantage over the Indian LCA.

South Korea has now also decided to accelerate the production of its Light Armed Helicopter.

It authorized a 5.75 trillion won (US$4.3 billion) plan to begin mass production of a homegrown light-armed helicopter (LAH) in the coming months.
India's Light Combat Helicopter (LCH):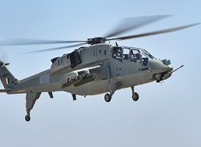 KAI Light Armed Helicopter (LAH) of South Korea.
Project Type:

Light-armed helicopter

Manufacturer:

Korean Aerospace Industries (KAI)

Engine:

The helicopter is powered by two Arriel 2L2 turboshaft engines.

First Flight:

July 2019

Cruise Distance:

411 kilometres

Operation time:

Two hours and 35 minutes

Armament:

The rotorcraft is armed with a chin-mounted 20mm Gatling-type gun.



Comparison:
KAI Light Armed Helicopter (LAH)

Light Combat Helicopter (Prachand)

Utility

: Air-to-air operations; escort operations, support of combat search and rescue operations, and anti-tank and anti-infantry operations.

Equipment:

four-axis automatic flight control system (AFCS), a helmet-mounted display, a fire control system (FCS), and an anti-jamming global positioning system (GPS).

Equipment:

Electro-Optical Pod consisting of a CCD camera, FLIR, Laser Range Finder (LRF), and Laser Designator (LD)

High Altitude Operations: NO
Challenges Related to the Defence Sector in India:
High Dependence on Imports:

The defence sector in India relies heavily on imports, and changing geopolitical circumstances cause it to be delayed.

Narrow Private Participation:

Private sector participation in the defence sector is constrained by the lack of a conducive financial framework, which means our defence production is unable to benefit from modern design, innovation, and product development.

Lack of Critical Technology

: Lack of design capability, inadequate R&D investment, and inability to manufacture major subsystems and components hamper indigenous manufacturing.

Lack of Nexus Between Stakeholders:

India's defence manufacturing capability is hindered by overlapping jurisdictions between the Ministry of Defence and the Ministry of Industrial Promotion.
AtmaNirbhar India in Defence:
Establishment of Defence Industrial Corridor

Modernization with Indigenization

Defense Manufacturing Ecosystem

Indigenisation with Private Boom

Defence Investor Cell

Inclusion of Defence Entrepreneurs in Policy Making

Strengthening the Economy with Strategic Independence
India's Recent developments in the Defence Sector:
Defence India Startup Challenge

INS Vikrant: Aircraft Carrier

Dhanush: Long-range artillery gun

Arihant: Nuclear Submarine