Thousands of Crimson Rose butterflies fly across ocean from India towards Sri Lanka
Context
The Crimson Rose butterflies have been flying from Dhanushkodi across the Indian Ocean. It is known for crossing the sea to migrate to Sri Lanka.
About
About Crimson Rose:
The crimson rose (Pachliopta hector) is a large swallowtail butterfly.
It is a large butterfly with a mix of black, white and crimson colours on its wings and body.
Crimson Rose, which belongs to the Swallowtails (Papilionidae) family, is known to migrate along the coast, inland and crosses the sea
It is found in India and Sri Lanka and possibly the coast of western Myanmar.
This butterfly is a migratory species. During the peak of its season, several thousands of these can be found congregating and then they begin migrating to other areas.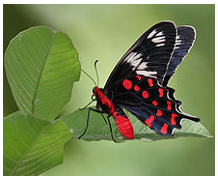 The most interesting and visually stunning aspect of the migration was that the butterflies made small pit stops on flowering plants on the beach to fuel their journey.

Crimson Roses were spotted on Ipomea flowers and Half leaf flowers on the beach. The grandest gathering was on a Calotropis gigantea plant.
About Butterflies:
Butterflies are insects from the order Lepidoptera of phylum Arthropoda which also includes moths.
Adult butterflies have large, often brightly coloured wings, and conspicuous, fluttering flight.
Significance:

Rich Biodiversity:Abundance of butterflies in any area represents the rich biodiversity.
Indicator Species:The butterfly acts as an indicator species.

An indicator species provides information on the overall condition of the ecosystem and of other species in that ecosystem.
They reflect the quality and changes in environmental conditions as well as aspects of community composition.
Pollinator:It acts as a pollinator by helping in pollination and conserving several species of plants.

Verifying, please be patient.