Water uptake feature of mangroves helps fight climate change
Context
A new study on the consequences of climate change on different ecosystems, especially mangroves on the coastal areas of Kerala has found that mangrove plants are heavily equipped to fight climate change.
About
Research taken up by Kerala Forest Research Institute and Ghent University, Belgium.
The team included scientists led by Sreejith Kalpuzha, principal scientist, department of forest ecology, Kerala Forest Research Institute, and Kathy Steppe of department of plant ecology, Ghent University, Belgium.
Key Finding:
Mangrove plants have a special phenomenon called foliar water uptake (FWU), which is a mechanism that enables plants to acquire water from the atmosphere through their leaves.
The study was envisaged to assess the FWU capacity of six different mangrove species belonging to four genera using a series of submersion experiments.
The amazing ability of mangrove plants to take up water from the rain and atmospheric water makes them a good candidate to answer climate change.
What are Mangroves?
Mangroves are special types of trees and shrubs that are known to thrive in saline and low oxygen conditions.
These forests are critical habitats for a variety of wildlife and aquatic creatures.
Mangrove forests only grow at tropical and subtropical latitudes near the equator because they cannot withstand freezing temperatures.
The roots also slow the movement of tidal waters, causing sediments to settle out of the water and build up the muddy bottom.
Mangrove forests stabilize the coastline, reducing erosion from storm surges, currents, waves, and tides.
India has about 3% of the total Mangrove cover in South Asia.
West Bengal (2,112 sq km) and Gujarat (1,177 sq km) are the top 2 states with the highest cover.
Major Mangroves forests in India
Sundarbans Mangrove Forest, West Bengal
Bhitarkanika Mangroves, Odisha
Godavari-Krishna Mangroves, Andhra Pradesh
Gulf of Kutch Mangroves, Gujarat
Mangroves of Thane Creek, Maharashtra
Pichavaram Mangroves, Tamil Nadu
Chorao Island Mangroves, Goa
Baratang Island Mangroves, Andaman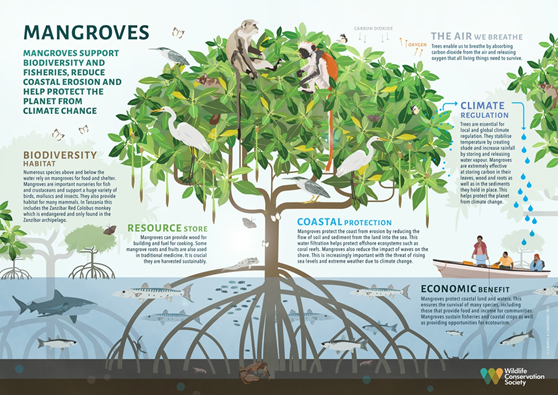 Verifying, please be patient.