World food commodity prices at highest level ever
Context
Food and Agriculture Organization (FAO) reported that World food commodity prices made a significant leap in March to reach their highest levels ever, as war in the Black Sea region spread shocks through markets for staple grains and vegetable oils.
About
FAO latest data of Food Price Index:
The FAO Food Price Index averaged 159.3 points in March, up 6 per cent from February when it had already reached its highest level since its inception in 1990.
The Index tracks monthly changes in the international prices of a basket of commonly-traded food commodities.

The latest level of the index was 6 per cent higher than in March 2021.

The FAO Cereal Price Index was 17.1 per cent higher in March than in February, driven by large rises in wheat and all coarse grain prices largely as a result of the war in Ukraine.
Russia and Ukraine together account for 30 per cent and 20 per cent of the world's wheat and maize exports respectively.

Maize price has also been increasing. It recorded a 19.1 per cent increase from February.

Port closures in Ukraine are seen as significantly limiting exports from the country, while financial and freight challenges are hindering exports from the Russian Federation.
It forecast that the situation to continue and thus keep the prices high.
The expected loss of exports from the Black Sea region is seen manifesting itself in lower shipments from and to the region, as well as higher global prices, reduced imports, slower demand growth and smaller stocks than previously expected in several countries.
The disruption due to the war has jacked up sunflower seed oil prices as well.
The FAO Vegetable Oil Price Index rose 23.2 per cent, driven by higher quotations for sunflower seed oil, of which Ukraine is the world's leading exporter.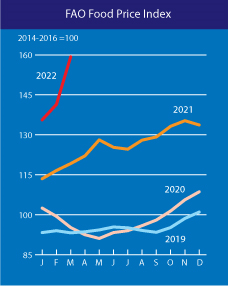 FAO price data and analysis
FAO provides a range of information on prices, including:

international prices and the FAO Food Price Index (FFPI)
domestic prices accruing to agricultural producers and consumer food price indices from FAOSTAT
wholesale and retail prices from the FAO's Global Information and Early Warning System (GIEWS) Food Price Monitoring and Analysis (FPMA).
changes in daily, weekly and monthly food prices and now casts from the FAO Data Lab

The FAO Food Price Index (FFPI) is a measure of international prices for a basket of traded (exported) agricultural commodities.

It consists of the average of five commodity group price indices weighted by the average export shares of each of the groups in 2014-2016.
Verifying, please be patient.