World Malaria Day
Context
World Malaria day is observed on 25th April.
About
About World Malaria day:
It is an occasion to highlight the need for continued investment and sustained political commitment for malaria prevention and control.
World Malaria Day was instituted by WHO Member States during the World Health Assembly of 2007.
This year the theme is -Harness innovation to reduce the malaria disease burden and save lives.

About Malaria
Malaria is an acute febrile illness.
Caused by: Malaria is caused by Plasmodium.
The parasites are spread to people through the bites of infected female Anophelesmosquitoes, called "malaria vectors."
In humans, the parasites (called sporozoites) migrate to the liver where they mature and release another form, the merozoites.
There are 5 parasite species that cause malaria in humans, and 2 of these species – falciparumand P. vivax – pose the greatest threat.
Symptoms: The majority of Malaria symptoms are caused by the massive release of merozoites into the bloodstream such as anaemia is caused by the destruction of the red blood cells.

The first symptoms – fever, headache, and chills – may be mild and difficult to recognize as malaria.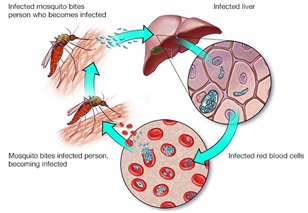 Verifying, please be patient.