How digital currency helps in India's goal of 5 trillion dollar economy and challenge's there in?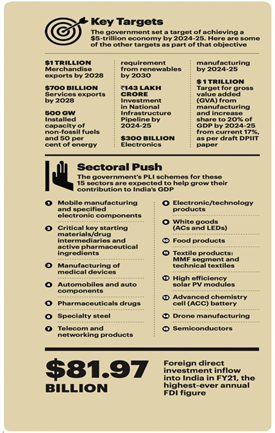 The digital currency plays a major role if considered in achieving 5 trillion dollar economy by 2025 based on its advantages over conventional currency, but the digital currency not yet rolled out and will ready by 2023 can be a challenge to Indian's goal to become 5 trillion dollar economy. Additionally, the recent pandemic pushed back the growth rate and settled down at 8.2% for FY2023 following the ongoing Russia-Ukraine war.
According to the World Bank, India needs to create 8.1 million jobs annually to achieve its growth targets. But on other hand, The NASSCOM has recently said that the Indian Crypto currency market has been growing exponentially over the last few years and is expected to reach up to $241 million by 2030 in India and $2.3 billion by 2026 globally.
A recent study on "Crypto Industry in India" by the NASSCOM and industry partner WazirX also said that the Indian investors have shown keen interest towards adopting Crypto currencies such as Bitcoin, Ethereum, and Polygon to make investments that promise them viable returns.
Former RBI Governor Raghuram Rajan, while addressing Reuters Markets Forum recently, had also endorsed the potential in Crypto currencies. The Crypto currency might find a way to become an effective means of payment, he had added.