Some of the crucial issues faced by the water sector in India include
Poor Administrative Management: Decreasing water quality due to poor waste management laws, growing financial crunch for development of resources and scarcity of safe drinking water. Inadequate institutional reforms and ineffective implementation of existing provisions affect the performance level for water service delivery.
Inter-state river disputes: Several inter-state river-water disputes have erupted since independence in the backdrop of unsustainable development and increasing population. Water disputes abound within the country and among its neighbors. Despite of explicit constitutional provisions that govern inter-state water disputes, it is unclear whether existing mechanisms for adjudicating interstate water disputes are efficient. Under Inter-State water disputes Act, 1956, numerous tribunals have been set up. Some of the important disputes and Tribunals worth mentioning are:

The Krishna-Godavari water dispute among Maharashtra, Karnataka, Andhra Pradesh (AP), Madhya Pradesh (MP), and Orissa
The Mahadayi Water Tribunalpronounced its final verdict in August 2018 and permitted Karnataka state to use water outside the basin for drinking water use.
The Cauvery Water dispute: In the recent years, the Cauvery water dispute has escalated to become a fight over potable drinking water between the two mega cities Bengaluru and Chennai, both facing the worst water crisis in the country. Cauvery water Tribunal was dissolved in 2018 after the disputes among the four riparian states – Karnataka, Tamil Nadu, Kerala and reached finality. Cauvery delta is one of the oldest and largest in the country and supplies drinking water to 20% of the total population of Tamil Nadu.
Water disputes have a potential impact on the overall economy, socio-cultural fabric, political stability, and security of not only the regions in which they occur, but also affect the entire country. However, the current solutions treat only the symptoms and not the root cause of the problem. Inter-State water Disputes Amendment Bill, 2017 has been introduced to speed up the dispute resolution process. As per the bill, Single Permanent Tribunal is to be set up which will have multiple benches.
3. Pollution: The quality of drinking-water is a powerful environmental determinant of health. Water pollution has reached an alarming level in India and has contributed to water scarcity by polluting freshwater resources, thereby limiting options.
River Pollution: Despite Namami Gane, water quality of Ganga continues to worsen. The waters of the Yamuna, Ganga and Sabarmati flow the dirtiest with a deadly mix of pollutants both hazardous and organic. India's rivers have high fluoride content and are also contaminated by antibiotics, beyond the permissible limit of 1.5 ppm, which affects 66 million people nationwide. The Ganga river basin that covers 26.3% of India's Geographic area cannot be used for any purpose, including drinking, cooking or bathing. As per the World Water Development Report, 2019, it has been revealed that coliform bacteria and biochemical oxygen demand (BOD) have increased significantly in the Ganga river Because the rivers are too polluted to drink and the government is unable to deliver freshwater, many urban dwellers are turning to groundwater, leading to its rapid depletion.
Groundwater (GW) Pollution: India is the largest consumer of GW in the world. As per the Department of Drinking Water and Sanitation (DDWS) nearly 90% of the rural water supply is from GW sources. However, high levels of Arsenic and Fluoride are found in the states of UP where around 78% of population lives in rural areas and are dependent on GW for drinking, cooking and irrigation. Government data revealed that over 45 million are affected with groundwater contaminated with fluoride, arsenic, iron, salinity, nitrate and heavy metal. The World Water Development Report has revealed that India extracts almost one fourth of total groundwater extracted globally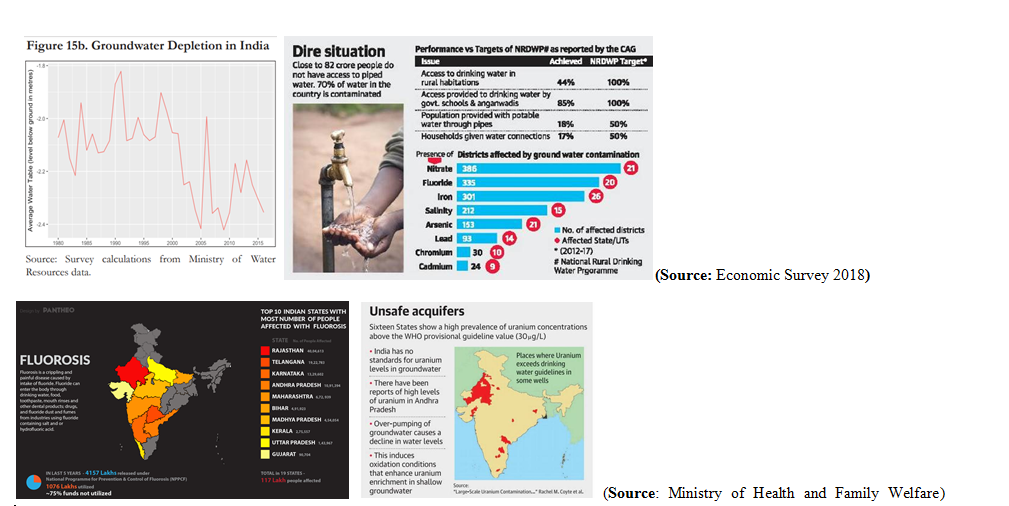 Apart from rivers and ground water, many other water sources are contaminated with both bio and chemical pollutants, and over 21% of the country's diseases are water-related. Recently, in February 2019, a report from International Centre for Integrated Mountain Development (ICIMOD) stressed that India, Bangladesh, Pakistan, and China together account for more than 50% of the world's groundwater withdrawals.

4. Inter-sectoral conflicts: Reliability on water to cool the power plants is one of the largest sources of water withdrawals. Water demand in both Agriculture and Power sector is set to increase tremendously in the coming years.
5. Inefficiency and lack of infrastructure: Water storage infrastructure in India remains one of the lowest in the world. There is also a marked absence of adequate number of well-equipped and functioning sewage treatment plants
6. Climate-Change: Erratic distribution of rainfall, often leading to floods and drought impact drinking water supply. Future predictions include worsening of the situation due to a disturbed hydrological cycle and regional climatic variability.
7.Lack of local Community Participation: Policies and systems are designed and constructed with little participation from local communities.