Explainer-North Korea is developing ICBMs.
Context
North Korea has dramatically ramped up missile tests this year and tested an intercontinental ballistic missile (ICBM).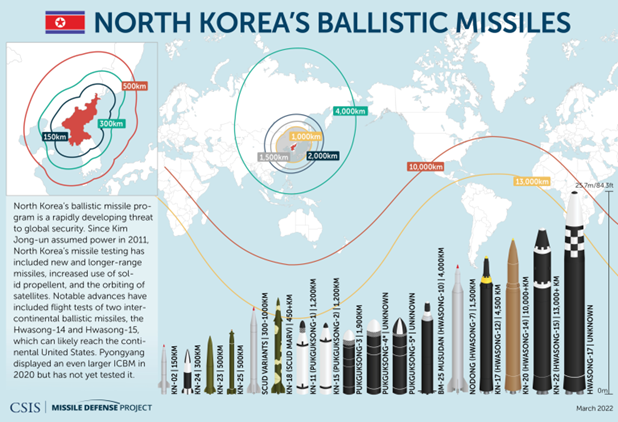 What are ICBMs?
An intercontinental ballistic missile (ICBM) is a missile with a minimum range of 5,500 kilometers primarily designed for nuclear weapons delivery.

Conventional, chemical, and biological weapons can also be delivered with varying effectiveness, but have never been deployed on ICBMs.

ICBMs are differentiated by having greater range and speed than other ballistic missiles.

Short and medium-range ballistic missiles are known collectively as theatre ballistic missiles.

The International Code of Conduct against Ballistic Missile Proliferation (ICOC),

now known as the Hague Code of Conduct against Ballistic Missile Proliferation (HCOC), is a political initiative aimed at globally curbing ballistic missile proliferation.

India is a signatory to this convention.

Established in April 1987, the voluntary Missile Technology Control Regime (MTCR) aims to limit the spread of ballistic missiles and other unmanned delivery systems that could be used for chemical, biological, and nuclear attacks.

India has joined the MTCR in 2016.
Countries that have ICBMs:
India, Russia, the United States, North Korea, China, Israel, the United Kingdom, and France.

North Korea conducted the first successful test of its Hwasong-14 ICBM in July 2017.
What missiles has North Korea been testing?
North Korea has been testing a variety of ballistic missiles, cruise missiles, and hypersonic missiles.

Hypersonic missiles fly at several times the speed of sound and at low altitudes, to escape radar detection.



Timeline for North Korea's ICBMs:
Shortly after two successful tests of the Hwasong-14, North Korea launched a new ICBM, the Hwasong-15, in November 2017.

The continental United States is about 9,000 km (5,500 miles) from North Korea, and some U.S. and South Korean experts believe both missiles can fly more than 10,000 km (6,213 miles), putting many parts of the United States in range.

North Korean leader Kim Jong Un declared after the Hwasong-15 test that the country had achieved the "great historic cause of completing the state nuclear force."

In March 2022, North Korea launched its massive Hwasong-17 ICBM for the first time after unveiling it at a pre-dawn military parade in October 2020. The missile is large enough to potentially deliver a nuclear warhead anywhere in the United States.

Unlike any of North Korea's previous ICBM tests, the Hwasong-17 was launched directly from a transporter-erector-launcher vehicle with 11 axles, which experts said is the largest road-mobile, liquid-fuelled ICBM in the world.

The International Atomic Energy Agency (IAEA) has not had physical access to North Korea's nuclear facilities since April 2009.
International perspective:
This test has to be seen in the current context when the Americans have withdrawn their troops from Afghanistan and they are trying to reassess regional security issues.

So, the North Koreans want to emphasize they are a critical component of the US's regional security concern.

This activity highlights North Korea's continuing focus on developing its military program and the threats that it poses to its neighbors and the international community.
Verifying, please be patient.