India, China to complete disengagement at PP15 in Gogra-Hot Springs
Context
Indian and Chinese troops have now declared to complete the disengagement process from patrolling point-15 (PP15) at the Gogra-Hot Springs area in eastern Ladakh near LAC by this month.
About
The sixteenth round of talks between the Commanders of India and China was held at Chushul Moldo Meeting Point on 17 July, 2022.
Since then, the two sides had maintained regular contact to build on the progress to resolve the relevant issues along the LAC.
Both sides have now agreed on disengagement in the area of Gogra-Hot Springs (PP-15) and the disengagement process in this area has been started.
India-China Conflict near LAC
China claims about 90,000 sq. km of India's territory in the northeast, including Arunachal, while India says 38,000 sq km of land in China-occupied Aksai Chin should be a part of Ladakh.
There are several disputed areas along the Line of Actual Control (LAC), including in Himachal, Uttarakhand and Sikkim.
Patrolling Point 15 (PP15) in Hot Springs and PP17A near Gogra Post were among the four friction points between India and China.
The other two being PP14 in Galwan Valley and the north bank of Pangong Tso.


In Ladakh, the disputed areas include:
Pangong Tso lake
Galwan Valley, where Shyok and Galwan rivers meet
Daulat Beg Oldi (DBO), a key northern region close to the Karakoram Pass.
The Hot Springs-Gogra area of the LAC
Demchok which is close to the southernmost part of the LAC in Ladakh.
Chushul, located on the southern bank of Pangong Tso Lake, has an airstrip and is near Rezang La pass on the LAC.
Spanggur Gap along the LAC has roads leading to it from either side. India's Chushul-Demchok road in the area is a critical communication link.
Samar Lungpa
Trig Heights
Chumar
Dumchele
Kongka La
Other Regional conflicts with China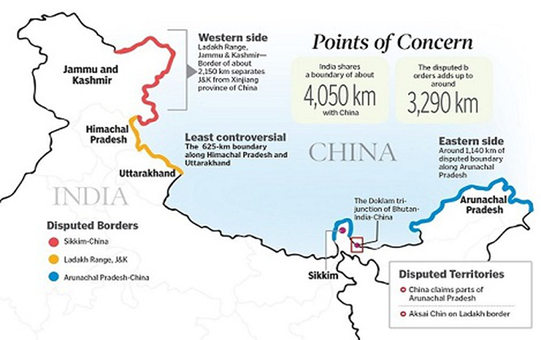 Significance of the Disengagement
The regions, PP15 and PP17A, are located in an area where India and China largely agree on the LAC alignment.
The disengagement in the Hotsprings-Gogra region will de-escalate the border tension.
Verifying, please be patient.