The Global Hunger Index, 2022 shows a 'serious' situation for India
Context
In the recently released Global Hunger Index for the year 2022, India ranked 107 out of 121 countries.
About
It is an Annual report, jointly published by Concern Worldwide and Welthungerhilfe.
It was first produced in It is published every October. The 2022 edition marks the 17th edition of the GHI.
Aim: To comprehensively measure and track hunger at the global, regional, and country levels.
Scoring:

Calculation: It is calculated on the basis of four indicators: Undernourishment: Share of the population with insufficient caloric intake. Child Wasting: Share of children under age five who have low weight for their height, reflecting acute undernutrition. Child Stunting: Share of children under age five who have low height for their age, reflecting chronic undernutrition. Child Mortality: The mortality rate of children under the age of five.

Based on the values of the four indicators, the GHI determines hunger on a 100-point scale where 0 is the best possible score (no hunger) and 100 is the worst.
Each country's GHI score is classified by severity, from low to extremely alarming.

Key Highlights of the Index:

India (107) ranked below Sri Lanka (64), Nepal (81), Bangladesh (84), and Pakistan (99).
Afghanistan (109) is the only country in South Asia that performs worse than India on the index.
India's score of 1 places it in the 'serious' category.
China is among the countries collectively ranked between 1 and 17 having a score of less than five.
The 2022 GHI score for the world is considered "moderate", but 18.2 in 2022 is only a slight improvement from 19.1 in 2014.
The reasons behind the drop in the position of several developing Countries remain to be the overlapping crises such as conflict, climate change, the economic fallout of the COVID-19 pandemic as well as the Ukraine war, which has increased global food, fuel, and fertilizer prices.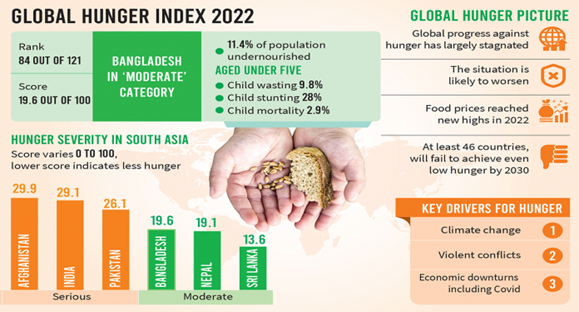 India's performance on several Indicators:
India's child wasting rate (low weight for height), at 19.3%, is worse than the levels recorded in 2014 (15.1%) and even 2000 (17.15%), and is the highest for any country in the world and drives up the region's average owing to India's large population.
Prevalence of undernourishment, which is a measure of the proportion of the population facing chronic deficiency of dietary energy intake, has also risen in the country from 14.6% in 2018-2020 to 16.3% in 2019-2021.
India has shown improvement in the other two indicators - child stunting has declined from 38.7% to 35.5% between 2014 and 2022 and child mortality has also dropped from 4.6% to 3.3% in the same comparative period.
Reasons for India's low score performance:
Due to disruptions in Global supply chains and Inflation
Lack of Job Opportunities
Poverty
Population Explosion
Lack of estimated targets for schemes including Children and Women.
Other reasons are reduced soil fertility, fragmented lands, fluctuating market prices of farm produce, etc.

Verifying, please be patient.