The NASA spacecraft-asteroid collision
Context
Recently, the DART (Double Asteroid Redirection Test) spacecraft collided with the space rock Dimorphos (just 160 metres wide).
About
Double Asteroid Redirection Test (DART)
DART is the first-ever mission dedicated to investigating and demonstrating one method of asteroid deflection by changing an asteroid's motion in space through kinetic impact.
This method will have DART deliberately collide with a target asteroid which poses no threat to Earth, in order to change its speed and path.
DART's target is the binary, near-Earth asteroid system Didymos, composed of the roughly 780-meter (2,560-foot) -diameter "Didymos" and the smaller, approximately 160-meter (530-foot)-size "Dimorphos," which orbits Didymos.
DART will impact Dimorphos to change its orbit within the binary system.
DART is also carrying a cubesat that will film the larger spacecraft's impact and beam the footage back to researchers on Earth.
At the time of DART's impact, Didymos will be visible enough to be a good candidate for study and distant enough to be no danger, at approximately 6.8 million miles (11 kilometers) away from Earth.
What is an Asteroid?
Asteroids are small, airless rocky worlds revolving around the sun that are too small to be called planets.
They are also known as planetoids or minor planets.
In total, the mass of all the asteroids is less than that of Earth's moon. But despite their size, asteroids can be dangerous.
Many have hit Earth in the past, and more will crash into our planet in the future.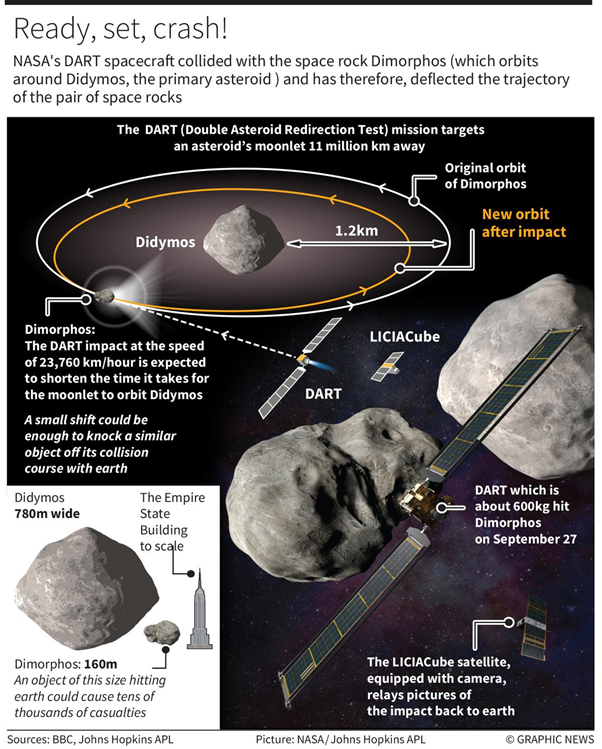 What are the other possibilities of this technique?
At the heels of NASA, China is set to deflect a 40m diameter earth-crossing asteroid called 2020 PN1 sometime in 2026.
While ostensibly the drive comes from the desire to protect earth from killer asteroids, perhaps the lure of space mining lurks behind.
Mining rare earth elements comes with a high environmental cost. In the coming years, the penalty for polluting could make space mining economically viable.
If one can tug a mineral-rich asteroid near the Moon or establish a space mining factory between the orbits of earth and Mars, precious mineral resources needed for decades could be easily sourced.
The 'kick' technique that deflects asteroids can then be used to move a small asteroid into a convenient position for space mining.
Now shelved, NASA's Asteroid Redirect Mission (ARM) aimed at precisely this by bringing a 20-tonne space rock near earth to study and mine. In a way, the DART mission is also part of this frame.
Verifying, please be patient.