ASI finds Buddhist caves, and temples in MP
Context
The Archaeological Survey of India (ASI) has reported 20 Buddhist caves, ranging from the 2nd Century BC to 5th Century BC, at Madhya Pradesh's Bandhavgarh Tiger Reserve.
About
The Buddhist religious artefacts found in the region of Baghelkhand are of the Mahayana sect of Buddhism.
This is also the first time Bandhavgarh has been explored since archaeologist NP Chakravarti last explored it in 1938.
Key Findings: Some of the key findings are

board games
monolith depicting the ten avatars of Vishnu
a votive stupa
two Saiva Math belonging to the Kalachuri period
chaitya-shaped doors, coins, stampage and as many as 46 new sculptures which were never seen before
Fragments of a Buddhist pillar dating to the 2nd or 3rd Century BC were found at the site as well
Over 24 Brahmi inscriptions, dating to 2nd Century to 5th Century BC, were also found.

The inscriptions mention sites such as Mathura and Kaushambi, and Pavata, Vejabharada and Sapatanaairikaa.
The kings they mention include Bhimsena, Pothasiri and Bhattadeva.

Also part of the findings is 26 ancient temples and remains from the Kalachuri period.
The team also found evidence of 19 water bodies.
Remains of the Gupta period, such as door jambs and carvings from 4th to 5th century BC were documented during the exploration.
The Kalachuri dynasty, which spread over parts of Gujarat, Maharashtra and Madhya Pradesh, is also associated with the earliest Ellora and Elephanta cave monuments.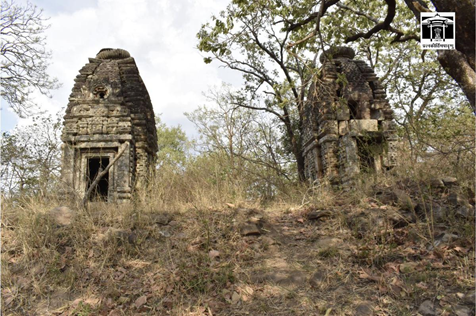 About Bandhavgarh Tiger Reserve:
Bandhavgarh National Park is located in the Umaria district of Madhya Pradesh.
Bandhavgarh was declared a national park in 1968 and then became Tiger Reserve in 1993.
Historical Significance: Its mention can be found in the ancient books of the 'Narad Pancharatra'and the 'Shiv Purana' that this place is being associated with Ramayana.
The park derives its name from the most prominent hillock of the area, which was said to be given by Hindu Lord Rama to his brother Lakshmana to keep a watch on Lanka. Hence the name Bandhavgarh (Sanskrit: Brother's Fort).
The Bandhavgarh Fort is a great masterpiece of "Treta Yuga" (one of the ages of mankind in Hinduism).
It was ruled by major dynasties including Sengars, the Kalchuris, and the Baghels(believed to rule the regions for the longer period).
About Archaeological Survey of India (ASI):
The Archaeological Survey of India (ASI), under the Ministry of Culture, is the premier organization for the archaeological researches and protection of the cultural heritage of the nation.
Maintenance of ancient monuments and archaeological sites and remains of national importance is the prime concern of the ASI.
Besides it regulate all archaeological activities in the country as per the provisions of the Ancient Monuments and Archaeological Sites and Remains Act, 1958.
It also regulates Antiquities and Art Treasure Act, 1972.
Verifying, please be patient.
Our Centers
DELHI (Karol Bagh)
GS SCORE, 1B, Second Floor, Pusa Road, Karol Bagh, New Delhi - 110005 (Beside Karol Bagh Metro Station Gate No. 8)
BHUBANESWAR (Jaydev Vihar)
GS SCORE, Plot No.2298, Jaydev Vihar Square, Near HCG Day Care, BBSR - 751013
LUCKNOW (Aliganj)
GS SCORE, 2nd Floor, B-33, Sangam Chauraha, Sector H, Aliganj, Lucknow, UP - 226024